Customer Gallery - Family Hand Cast and Couple Hand Casts
Here's just a small selection of gorgeous hand casts that our lovely customers have made using our BabyRice Hand Casting Kits. We hope this customer photo gallery gives you some inspiration for hand poses and what you can make with our hand cast kit. Our kits enable you to make your own, unique sculpture of your hands in just 3 simple and easy steps with outstanding results. Such a lovely keepsake for years to come and to pass down to the generations who will follow after us...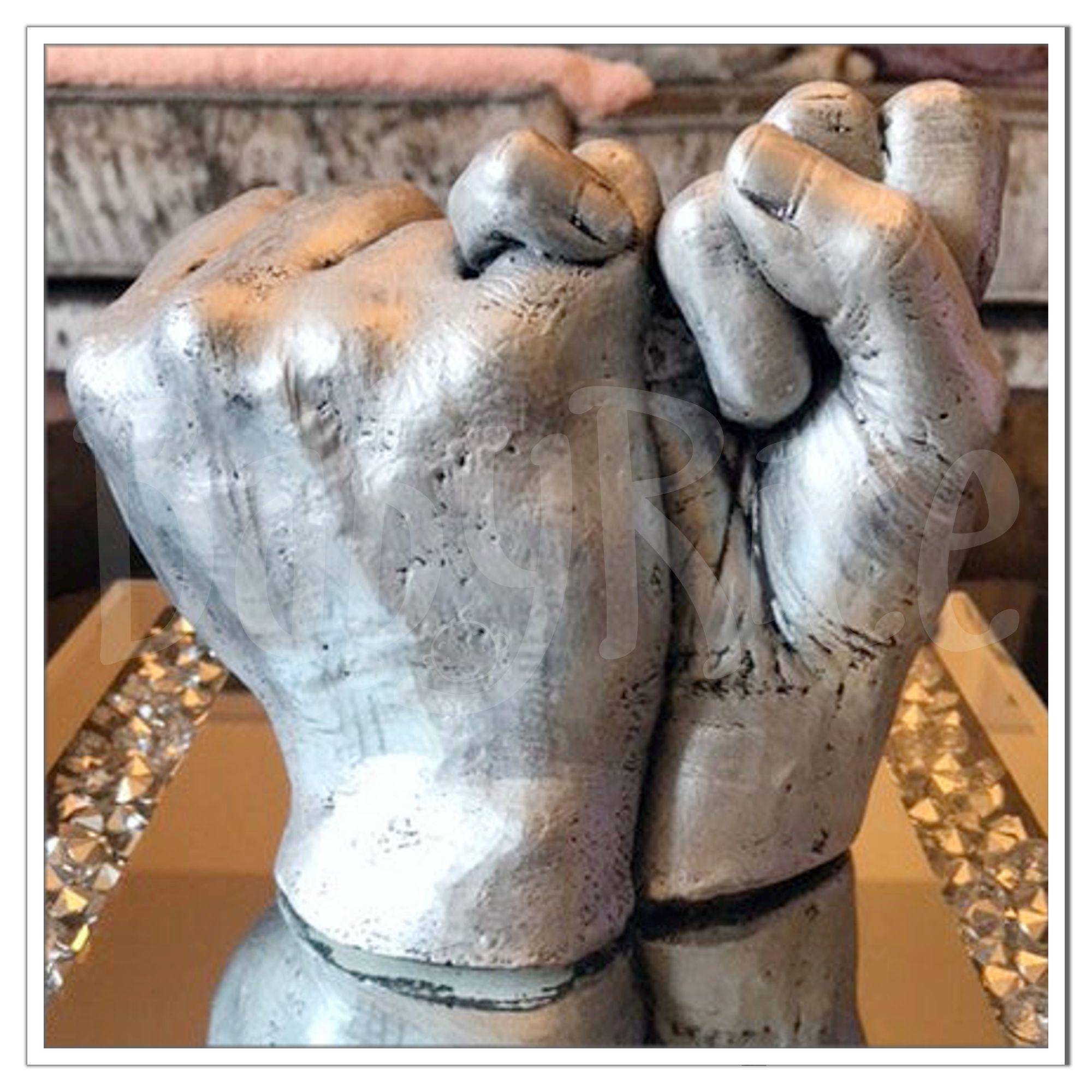 'Pinky Promise'
This lovely Pinky Promise hand cast was made by Melissa, using our hand casting kit with the Silver Wax Paint finish - what a great pose and of course, Melissa was really chuffed and pleased with her handiwork!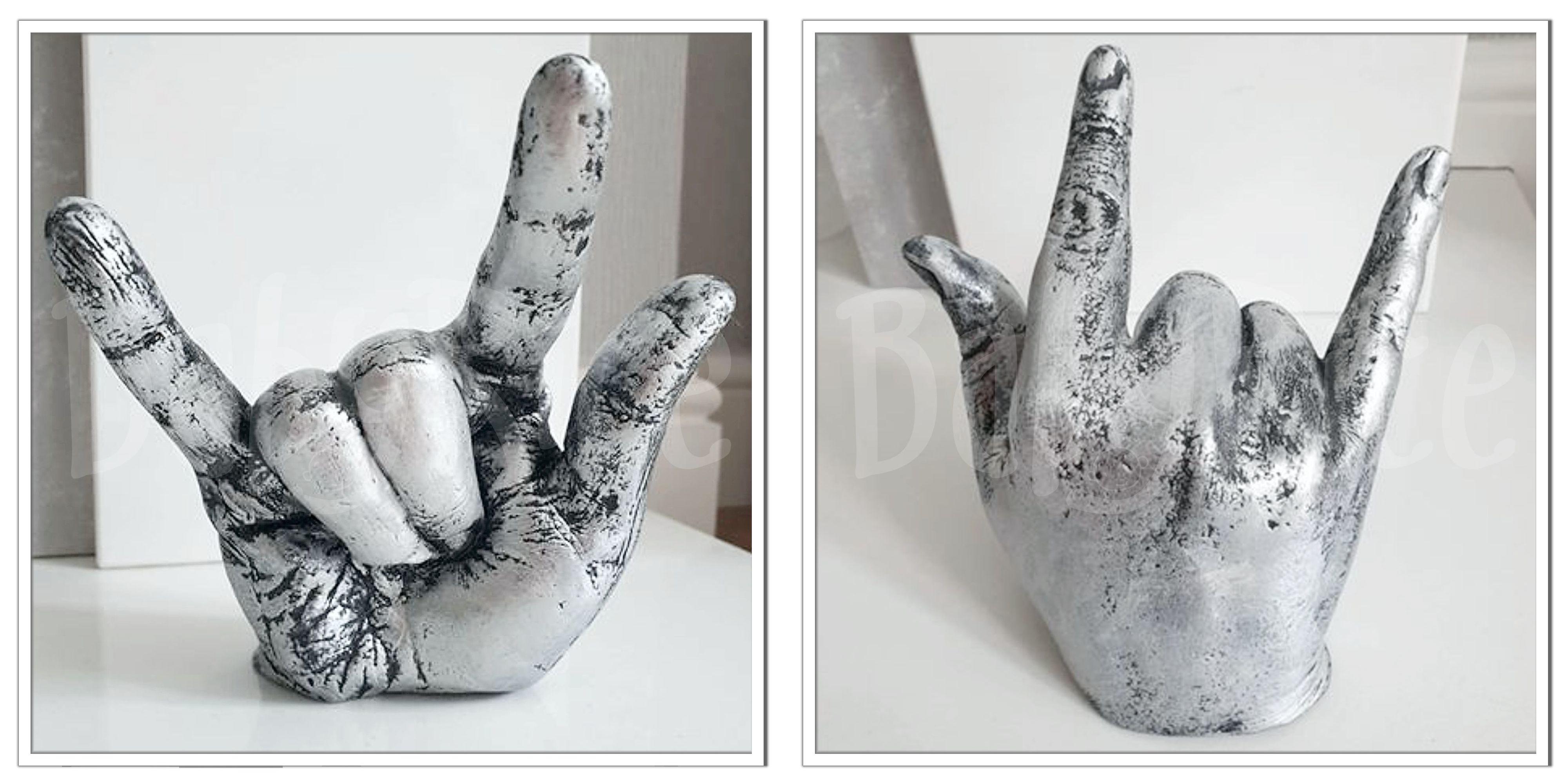 'I Love You'
Leala-Ann made this lovely hand cast pose, which says 'I love you' in sign language. Such a great sentiment and a wonderful idea to have an endearing message like this displayed in your home forever. Leala Ann said "Finished my casting now and I love it. This means 'I love you' in sign language. Thank you for the fab kit xx". This one is our adult hand casting kit with silver wax paint finish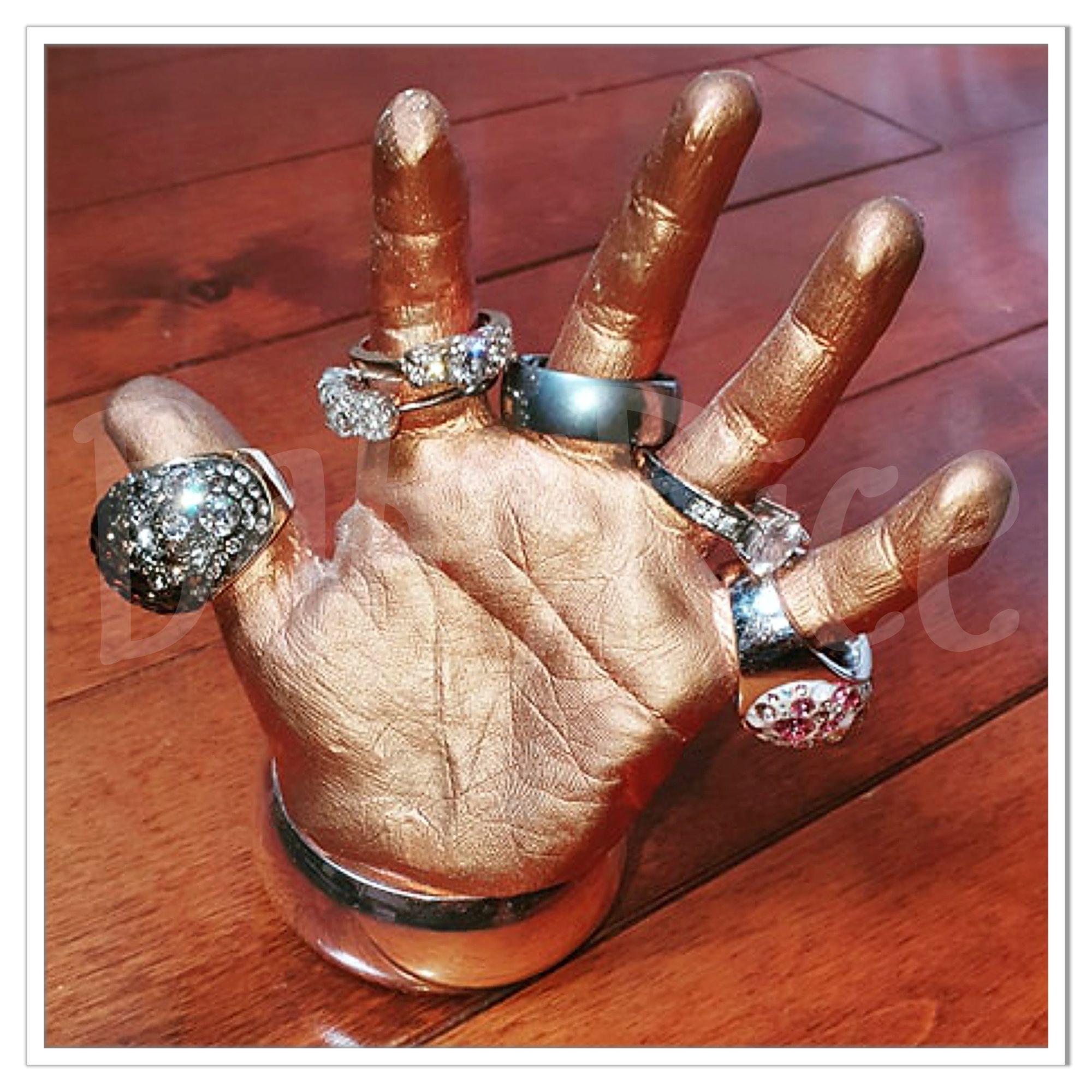 'Unique Ring Holder'
Derrick made the best ring holder display we've ever seen - doesn't it look amazing! Derrick was so pleased with the outcome and is planning on making a family hand cast next using our BabyRice alginate and clear glasscast resin, we can't wait to see what that one is going to look like, watch this space!
This kit is our standard adult hand cast kit with our metallic bronze paint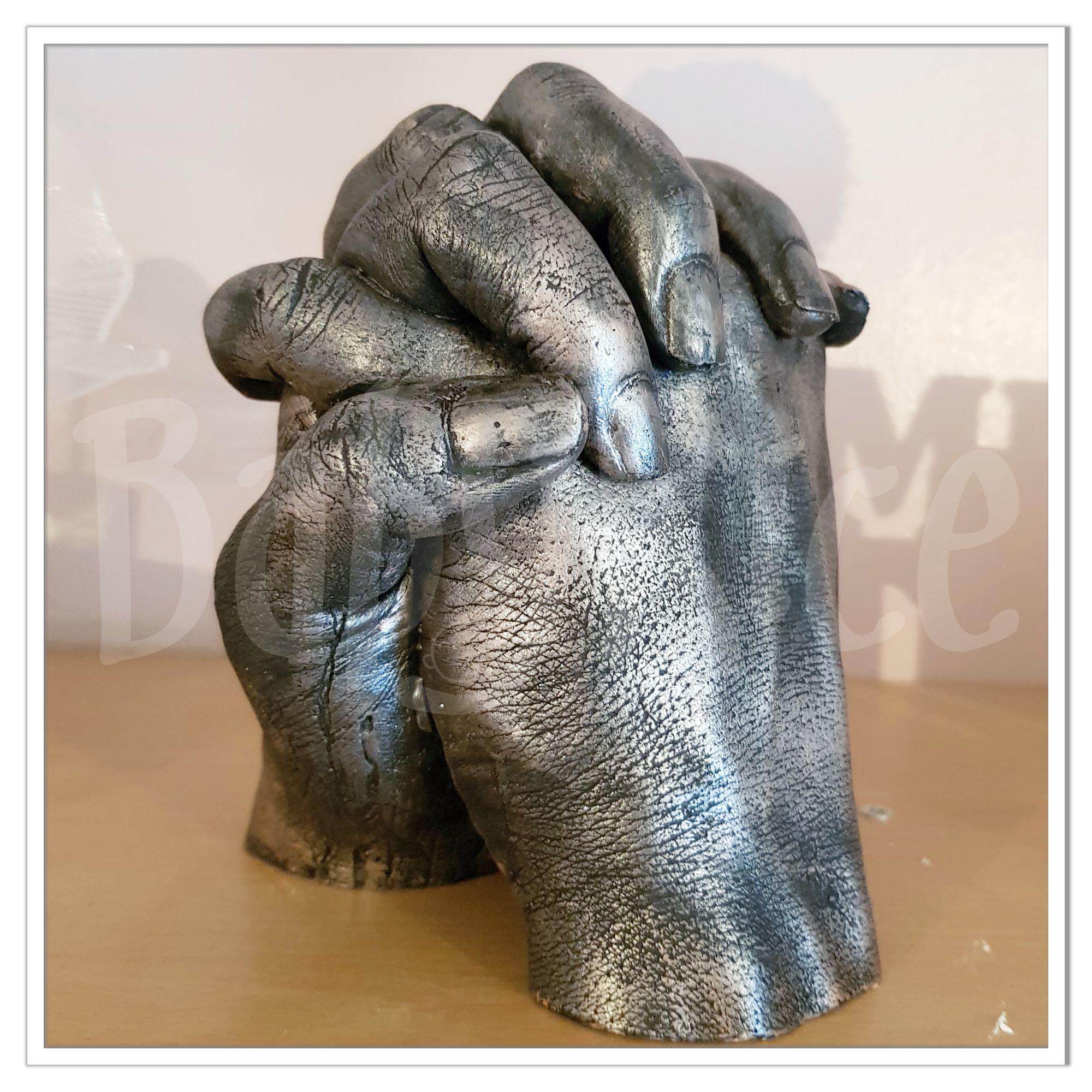 'Valentine's Couple Hand Cast'
Katie bought her husband a couple hands casting kit for a Valentine's Day gift (such a great gift idea for Valentines). Katie said "I bought my husband your hand casting kit for valentines day, we have just got around to doing it and I have attached a pic of the final product, so happy with it, lovely addition to the living room and great conversation piece. Thanks again, Katie." The kit Katie used was our popular adult hand casting kit with silver wax paint finish
Samantha made her stunning family hands cast using one of our kits - her gorgeous cast is painted in our metallic gold paint. Our family hands casting kit comes with a 5L container and a metallic wax gold paint finish, but if you wanted the same gold metallic paint, then the paint is available separately on our website, two lots of 20ml gold will be enough to cover a large family hand cast like this.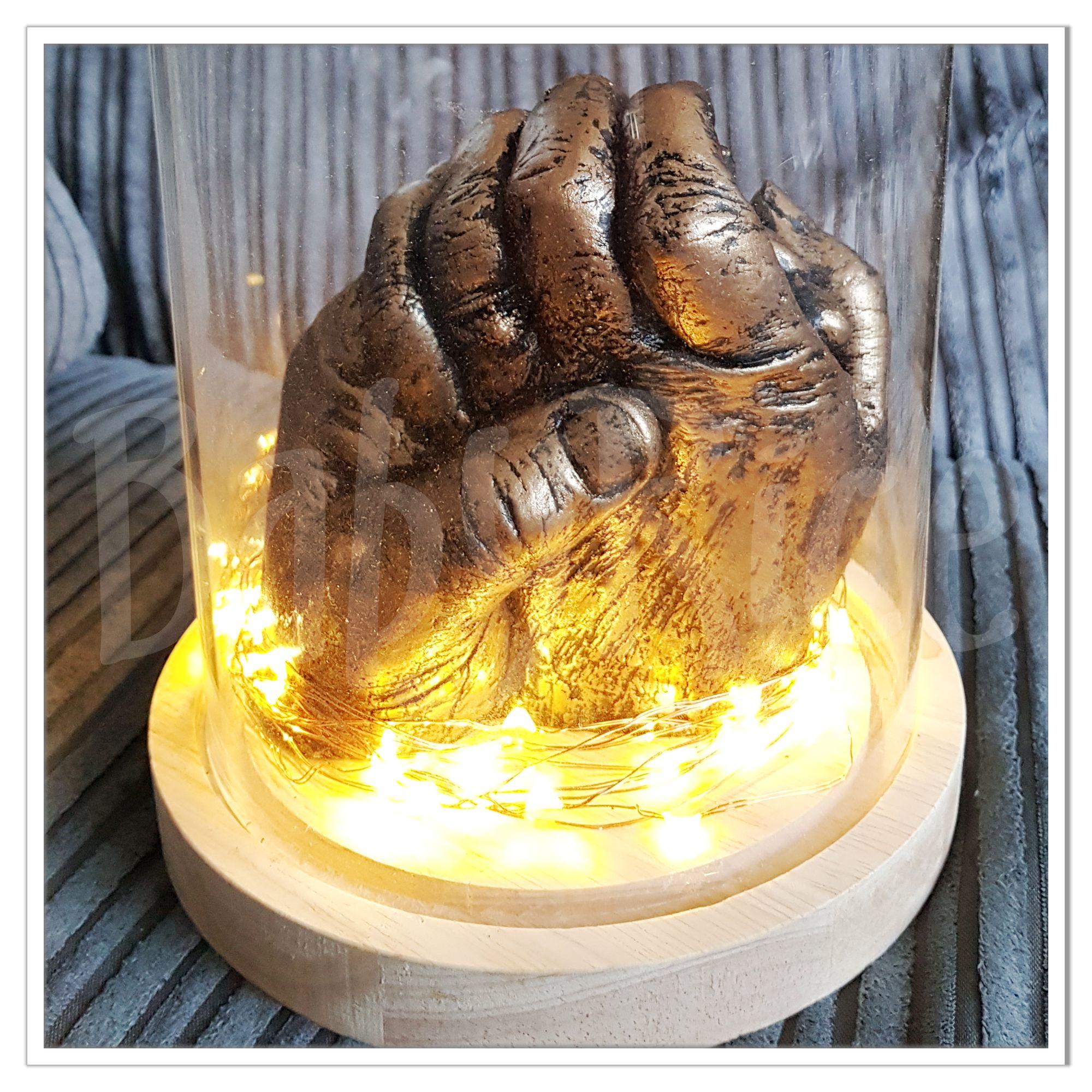 'Everlasting Love - Keepsake Hand Cast'
Tim very kindly shared his beautiful and special holding hands cast with us. Tim's partner sadly only has a few months left and he has made a wonderful keepsake of them holding hands forevermore. Tim says "We are very pleased with the way it turned out and we found the instructions easy to follow. My partner only has a few months left, due to Cancer, so this is my rock for the future. Thanks for this treasure." Thank you so much Tim for sharing your special keepsake with us, we wish you, your partner and your family all the very best going forwards. Tim used our hand casting kit with the containers and bronze wax paint finish.
Lisa made this holding hands forever cast of her and her partner, this one is finished in our standard metallic pewter paint - such a stylish sculpture! Lisa said "I had my hand casting kit since March, finally got around to painting it yesterday and wow !! I absolutely love it xx We are so happy how it turned out, I absolutely love it. I have recommended your company to quite a few people now :) I will be definitely ordering another kit to do the full family. xx" Thank you Lisa! You too can purchase the same kit from our couple hand casting page.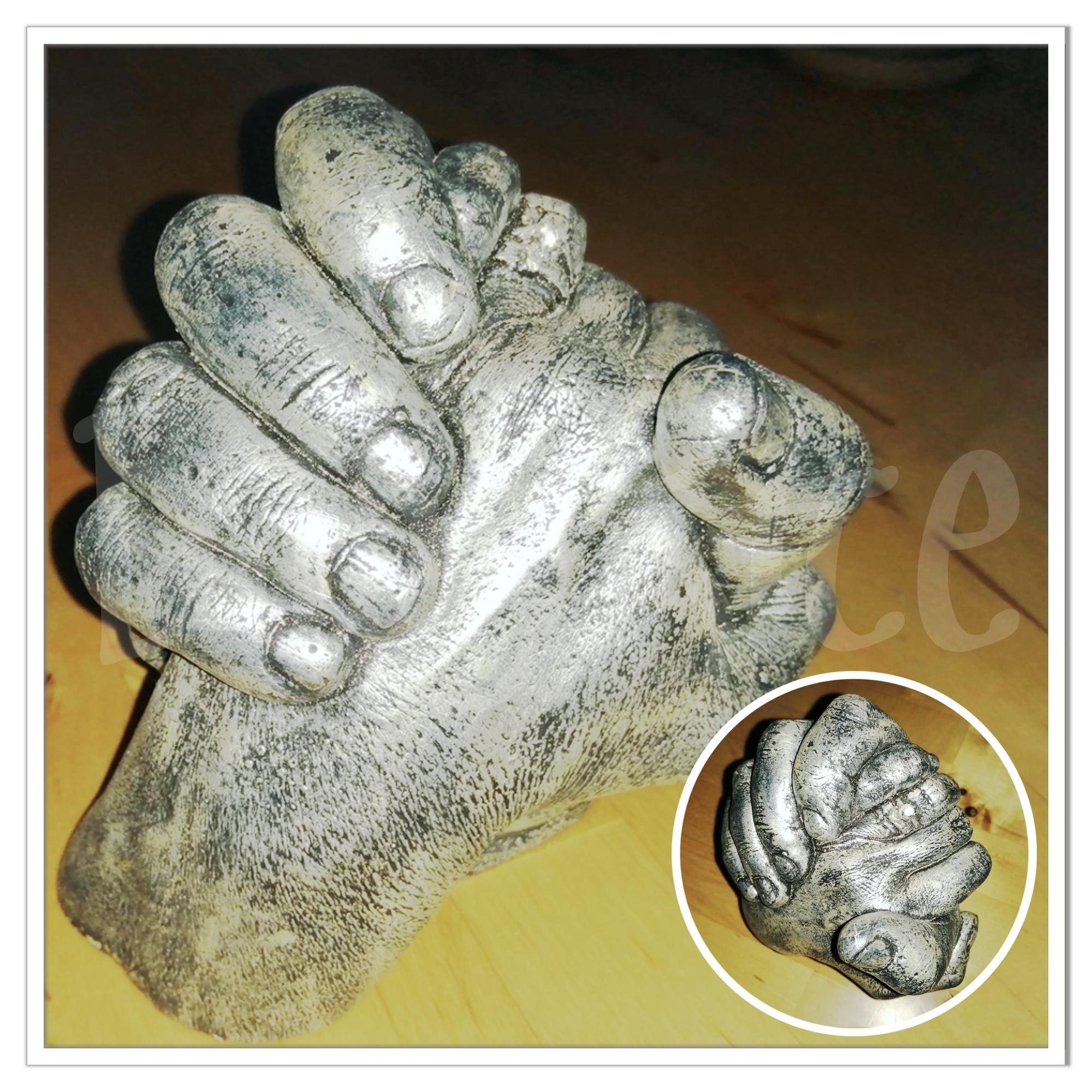 Jaqueline emailed us a photo of her holding hand cast creation - this gorgeous keepsake was made using our kit that contains the casting containers and finished off in the Champagne Silver wax paint finish, all provided in the kit. With this kit, you really can't go wrong as long as the instructions are followed! See here for the Couple Hand Casting Kit with Champagne Silver Wax finish.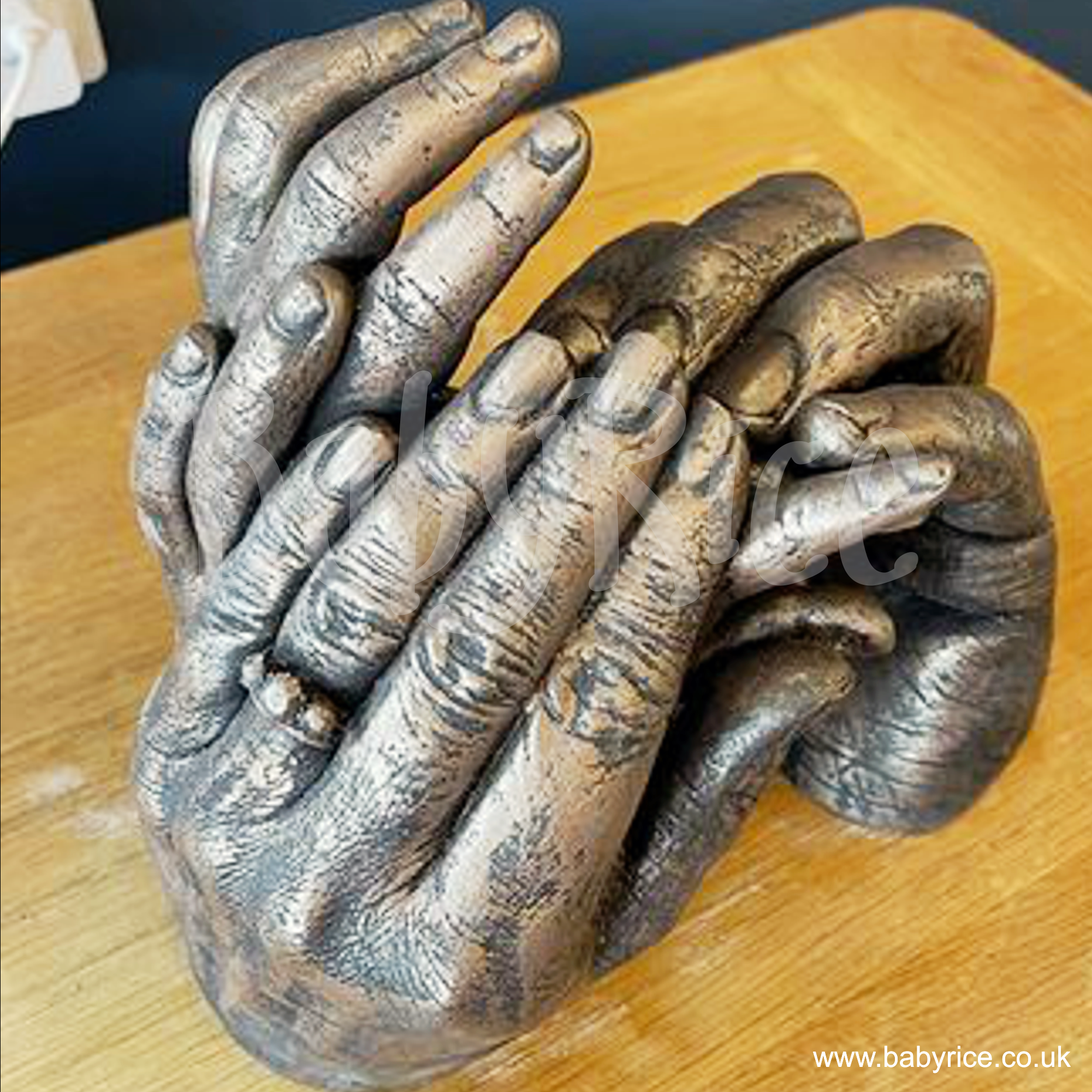 Mrs Shrubbs used our larger family hand casting kit, with bronze finish to make a family hand cast with her children aged 6, 4 and 2. What a fabulous family keepsake!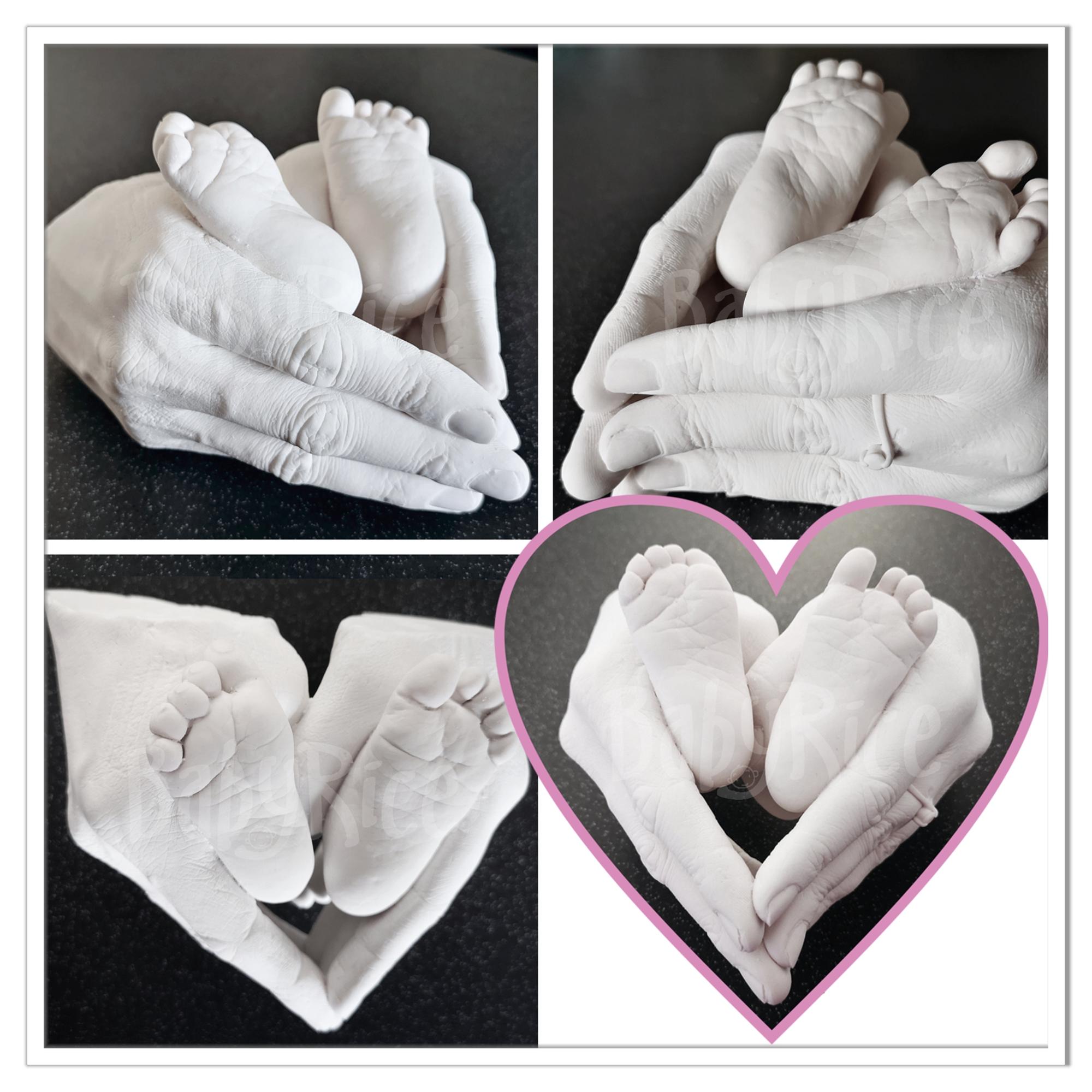 'Mum's Hands and Baby's Feet by Jenny'
Jenny's stunning hands and baby feet cast image is also on our customer baby casting gallery page, but as it's so good and features adult hands, we have added it here too so you can see what can be achieved using our casting materials. With a little imagination, you too can create a fabulous hand cast pose - maybe holding paw casts, if you're a writer then holding a pen, if a golfer then a golfball, if religious then prayer hands and so on.
The easiest way to achieve this heart shaped cast is to cast each of baby's feet separately, then cast the parent hands in the heart shaped pose, also separately. When all of the casts have dried, baby's foot casts can be placed into the heart-shaped parent hand cast. If you want create this style of cast please do check that your baby's feet are still small enough to sit in your hands like this. It's a good idea to create your baby's casts when they are still tiny - you can always make the parent hand cast at a later date. See here for affordable baby casting kits. Want the casting materials only to create this cast? You will need at least 2kg of BabyRice Alginate and 3kg of Casting Plaster, see here for our alginate and plaster.
We hope these photos have inspired you to give hand casting a go and to create your very own gorgeous keepsake. Head back to our main casting kit page to select a kit and be well on the way to create your own unique, beautiful and lasting keepsake of those that are most precious to you.