Customer Gallery - Baby Hand and Foot Casting
Customer Photos using BabyRice Casting Kits
Below are some photos that we have been sent from customers who have bought one of our hand casting kits. We're sure you'll agree that they have done a fantastic job. If you have bought or are planning on buying a baby casting kit from us, we'd love to hear from you and see a photo of the end result so we can add it to this page!
1 Week Old Baby Hand & Foot Casts - 2020

These gorgeous framed casts were sent to us by proud mum Kathryn, who cast lovely Theo's hand and foot at just seven days old. Framed in a matte white frame with matching blue mounts, we think Kathryn has done a great job.

Sending us her pics, Kathryn got in touch to say, "Just wanted to say how pleased I was with my casting kit. Finally got around to making it today. Thank you x"
Shop the kit HERE >>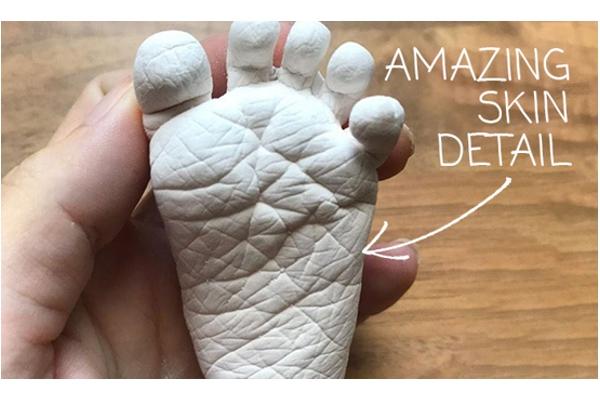 Aimee told us that this is one of the most detailed casts she's ever created, made possible thanks to BabyRice Skin Safe Alginate. Our alginate is hypoallergenic, so it's suitable for use on even the softest and newest newborn skin. Thanks to it's fast-setting properties, BabyRice alginate has a short working time so you don't have to leave baby's hands and feet in the moulding material for long - around 30-60 seconds is enough to create a detailed cast.
If you are looking for a professional caster in your area, do let us know. We supply casting materials to casting studios across the UK and Europe, so we may well be able to recommend a caster in your area.
Fill out the Home Casting inquiry form on our website and we will get back to you! CLICK HERE TO INQUIRE >>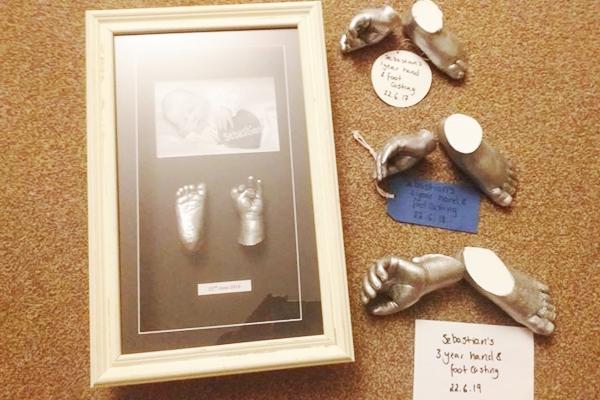 Annual Birthday Hand and Foot Casts - 2016 - 2019

With a BabyRice hand and foot casting kit you can create incredibly lifelike replica casts of your baby's tiny hands and feet. The results are simply stunning and as a result, casting can become addictive! Just ask Emma Fishee, proud mum to Sebastian.
Emma bought her first BabyRice Baby Hand & Foot Casting Kit back in 2016 to cast her newborn son's hands and feet. Emma has returned to BabyRice every year since to make a new cast of her son's hands and feet.
Emma told us "We did a hand and foot cast when our son was new born We have done castings on his birthday every year since... it's so lovely to see where he was and where he is."
Casting with toddlers can be more difficult than casting with babies as they may be uncertain about placing their hands in the alginate. We think Emma has done a fantastic job here! You can really see the detail of each cast and how Sebastian has grown from a tiny newborn to a big-little boy. Each cast has a handwritten label with the age of the cast and and the date it was taken, which is a lovely personal touch.
Emma started her casting journey with a BabyRice Shabby Chic Frame Casting Kit with Silver Paint (product code: 726.BLKSGL.BLKBKG6x4OFFCTR.TXT.SIL)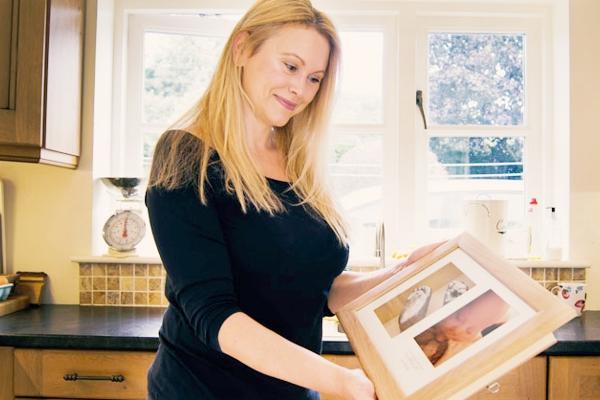 Scott Family Baby Casting - How to Create the Perfect Baby Keepsake
We were lucky enough to visit the home of the gorgeous Scott family to film them making their first ever baby hand cast. We love this behind the scenes pic from our shoot as it captures just how happy mum, Laura, was with the final cast.
Before baby Abbie's casts were mounted and framed, we took a close look at them in dad Tim's hands - look how tiny these 5 month old casts are: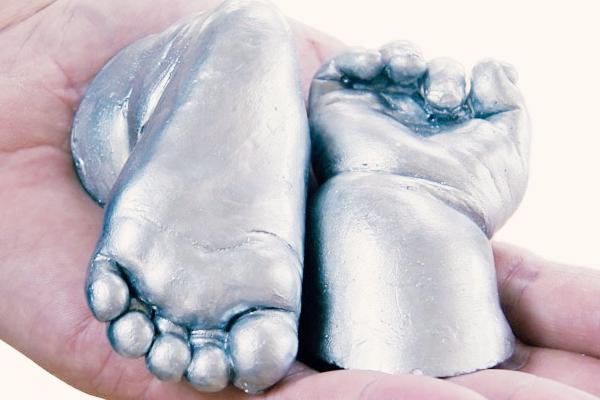 And here is the final, framed hand and foot cast with Abbie's photo and details added in the frame: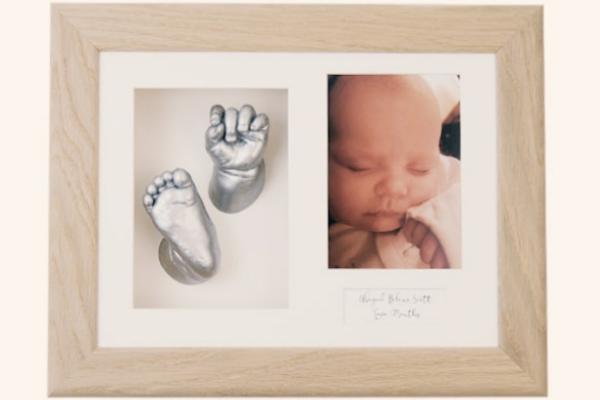 The Scott family chose a Newborn Baby Casting Kit with Solid Oak Frame & Silver Paint. You can buy your own kit here >>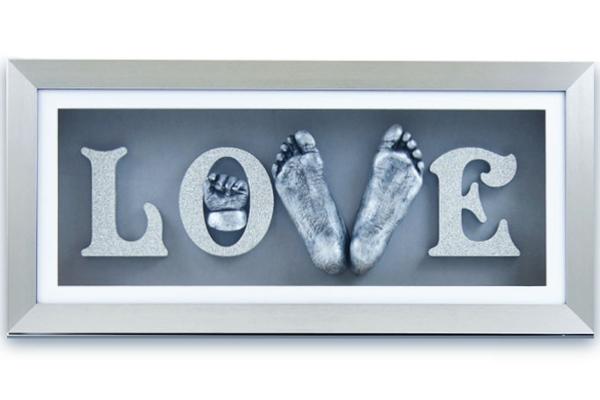 The LOVE casts - 2019

This gorgeous framed cast was created by our talented home casting team, but it's so good we had to include it in this gallery as you can easily recreate this cast using our DIY casting materials craft blanks and a 60x20cm box frame. The casts in this frame were of a 1 year old's hand cast and a 7 and 9 year old's foot cast.
Products you'll need - click on the product to visit the item in our store:
60x20cm Box Frames,Large Baby Casting Kit, Craft Blanks (15cm / 6in), BabyRice Metallic Paint & Glitter Paint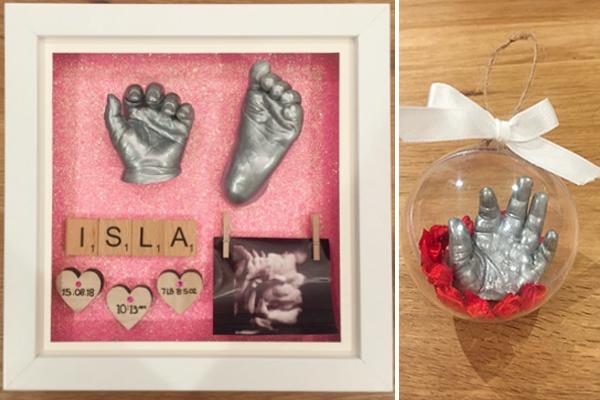 Isla-Rae's Six Week Hand & Foot Cast - 2018

This beautifully framed baby hand and foot cast was sent to us by new mum Aimee. As well as getting to grips with the whirlwind that is being mum to newborn Isla-Rae, Aimee also found time to make casts of her little one's hands and feet using a BabyRice Value Baby Hand Casting Kit. Aimee was so pleased with the results, she couldn't wait to share them, saying, "We had lots of fun with our casting set. The instructions were nice and easy to understand." Well, Aimee, we're glad you think so and we're not surprised you happy with the results as you've done a fab job. Well done!
Isla-Rae was just six weeks old when mum Aimee created these casts and framed them in a white shadow box frame. The wooden tiles with Isla-Rae's name and vital statistics (name, date and time of birth and birth weight) are a lovely detail. Aimee also created this adorable Christmas bauble hand cast, a perfect keepsake decoration for the Christmas Tree.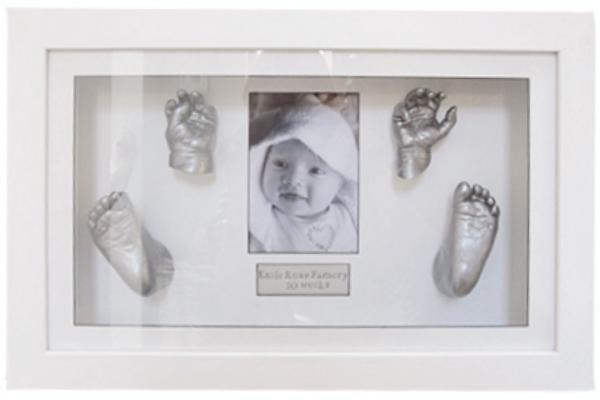 Baby Essie's Hand & Foot Cast - 8 & 12 Weeks - 2015

We love this one, the end result is simply stunning, a real masterpiece for the wall! A big thank you to Jo, Jim and Essie for sending us some pics. This kit is our Large 3D Baby Casting Kit with White Deep Box Display Frame with Pewter paint for the casts. A great close up shot of each of the casts, how gorgeous are these!?:

Jo says:
We took the 4 casts of Essie's hands and feet between the age of 8 and 12 weeks - the hands were a little tricky to get right! We wanted to keep taking casts until we got the perfect hand casts, she seemed to just bunch her fist up every time! We had difficulty getting the plaster into the fingertips when they were pointing upwards (SO frustrating!) We tried when she was asleep (success!) and calm (success!) We are just so, so pleased with the finished result, it looks better than other ones we have seen that have been done professionally, for a LOT more money. I definitely think if you do it yourselves you get a better finish (although I am a perfectionist!) and it just means more that you have done it together. It is now in pride of place in our lounge!
Thanks again, Jo, Jim & Essie xxx
BUY THIS BABY HAND CASTING KIT >>
Davies Family - Newborn Baby Hand Cast - 2011

Many thanks to Matt and Amy Davies who sent us these photos of their gorgeous daughter and the hand and foot cast they took of her. Matt's close up shots of the casts look great and you can see the detail that is replicated. They added a name plaque which looks great and is a wonderful idea. This kit is our rustic frame, cream 2 hole mount and metallic gold paint (plaque is not supplied) under item number: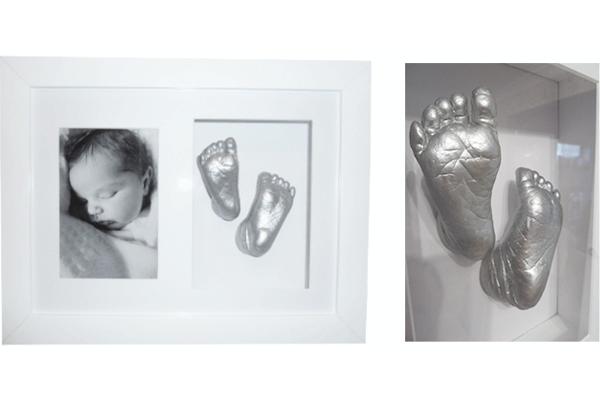 Holly Eliza's Hand Casts at 7 Days - 2011

A big thank you to Rachel & Mark Willson for these pictures. They have done an amazing job and the finished item looks amazing, doesn't it? This item is our kit
it can be found here - just ask for a 2 hole mount (not 3) at the checkout, in the customer comments section.
Rachel says:
"I attach a couple of pictures of the completed casting kit that I bought from you recently. The castings are of our new baby daughter Holly Eliza - she was just over a week old when we took the castings. We are really pleased with the way they have turned out, and the completed piece is a lovely keepsake that we hope Holly will appreciate when she's all grown up!"
Rachel created this beautiful cast using a BabyRice Baby Hand Casting Kit with Two-Display Area Frame. The choice of white mount really makes these scrumptious little feet pop - if you don't see your prefered mount colour listed, simply add the frame of your choice to your basket and tell us your preferred mount option in the customer comments section at checkout.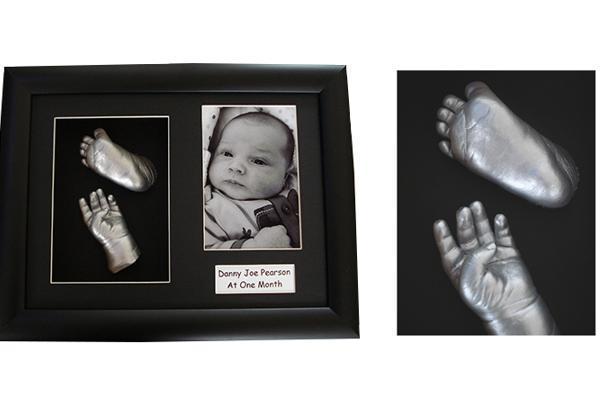 Baby Danny's Hand & Foot Cast at 4 Weeks - 2010
This kit is our black frame, with black 3 hole mount and silver paint kit. Item
- plus a close up shot of the casts, they look absolutely brilliant don't they!
Customer comments: "Fantastic product, over the moon with the casts we produced, looks amazing! Thanks again, really happy!"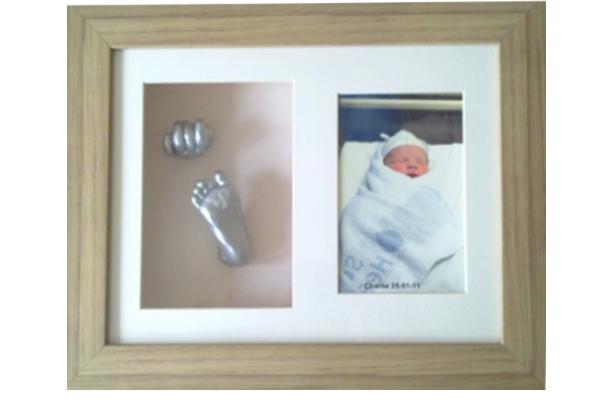 Charlie's Baby Hand & Foot Cast at 3 Weeks
A big thank you to Daniel & Kim M. for this photo of their beautiful baby boy Charlie and his foot and hand cast. What an adorable picture of baby Charlie and a great hand and foot cast, well done!
Daniel says:
Photo and mould of baby, Charlie Mackintosh 3 weeks old 7lb5. We did the same for his sister Sophie May when she was little. So having had some practice did both the foot and hand. Very pleased and the frame is really smart.
Proud parents Daniel & Kim.
This item is our Item number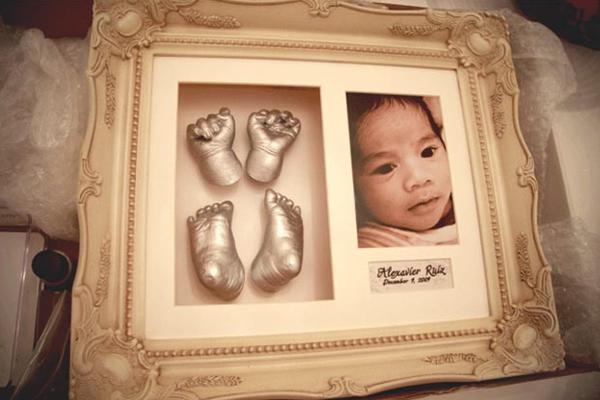 Alexander & Vivienne Newborn Hand Casts - 2009 & 2012

Above is our totally gorgeous vintage Rococo style cream frame with a cream 3 hole mount and silver painted casts. Item number: 112.CRMSGL.B (please request 3 hole mount and paint colour in the comments box at the checkout!). Don't you think this is simply stunning - we do! And then when Ramuel had his second child, a beautiful baby girl, he used the same kit again to create another stunning keepsake: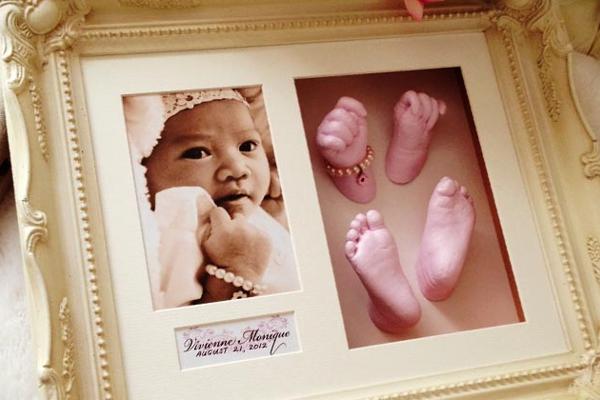 SHOP THE ROCOCO FRAME RANGE OF BABY HAND CASTING KIT >>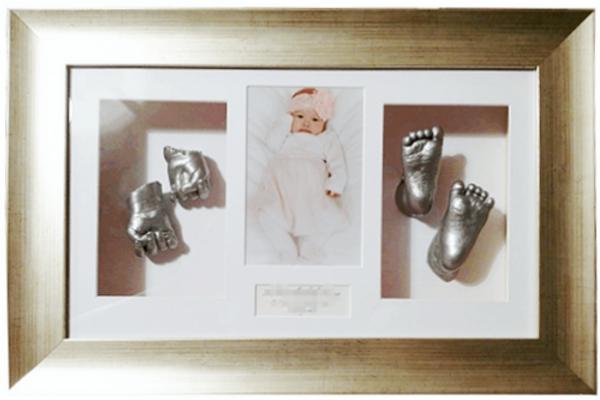 New Mum Lina Created 4 Wonderful Baby Hand & Foot Casts
This one is our Large or Twins 3D Baby Casts Kit, Antique Silver Frame Hands Foot, product number
Lina persevered with her kit, she struggled a bit at first to get some good casts and contacted us for some help. We sent her some more alginate along with a little advice and then Lina got the hang of it and created these 4 wonderful casts. Lina says:
"OMG!! TRULY A LABOUR OF LOVE! Thank goodness I ignored my impatient husband and tears from my little one because look at this beautiful piece. I am so glad I did not give up. I am so pleased with it. It took forever to find the time to get the right pic, process the pic, paint the casts and put it together. Now it's finally done.
I wanted to thank you for sending me the extra alginate. Honestly, I felt so defeated. This was not easy but so worth the trouble. Thanks so much!"
And we think you'll agree that a little perseverance goes a long way and Lina now has this wonderful keepsake to treasure forever!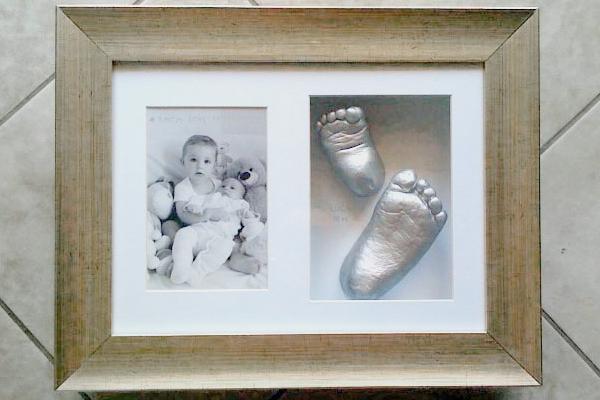 Big Brother and Baby Foot Casts - 15 Months and 7 Weeks
Proud mum Danijela discovered baby casting when her second son, Nathan was born. As she didn't have a cast of older son Luca, she decided to use one of our frame kits to incorporated both of her boys' foot casts. Danijela contacted us to say,
"Hello there, just sharing a photo of the finished product...really happy with this lovely keepsake - thanks very much!"
Luca was 20 months and Nathan 2 months old on the photo, and the casts were taken at 15 months for Luca and 7 weeks for little Nathan - great to have both in one place like this :)
Here is the final cast, displayed in our antique silver frame with white 2 hole mount. The casts have been painted using our silver metallic paint. This was created using our kit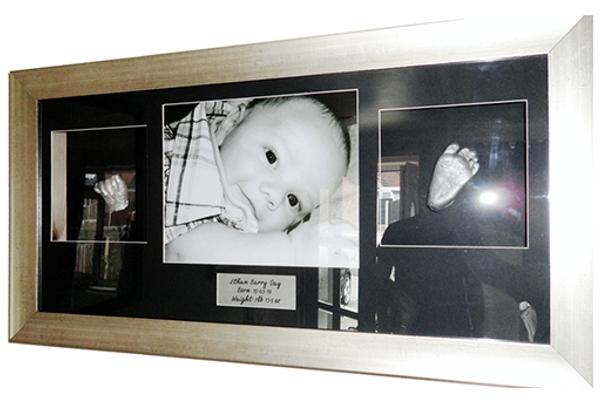 Ethan's Baby Hand Casts Displayed in a Bespoke Frame - 2010

This feature's a bespoke frame that was specially made by us according to the customer's requirements - it looks fabulous! It's our antique silver effect frame with black mount and black backing card - we already sell a similar frame kit - please see our Larger Kits for Twins section, where the kits are great for a lot more castings of one baby, twins or siblings!
Caroline said:
"Just thought I would say thank you for the frame, it looks amazing with the photo's and casts inside! No doubt I will be ordering from you in the future, and will certainly recommend you to friends.
"Thanks again!"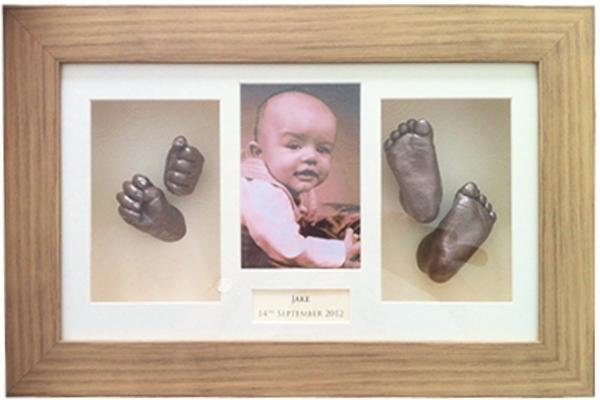 Jake's Newborn Hand and Foot Casts - 2012

Thanks to mum Gemma for sharing this photo of her georgeous son Jake's hand casts and foot casts. Jake's casts were creating using the BabyRice Baby Casting Kit, Large Oak Effect Frame, Cream Display, Bronze Paint (product reference
). The casts look stunning in the frame and as you can see, the results look like a professional has done it! Proving that you can create a masterpiece in the comfort of your own home - and at a fraction of the cost of paying for someone else to do it for you!
Gemma says: "Thought I'd share our finished frame with you. We're so pleased with the results - such a great kit."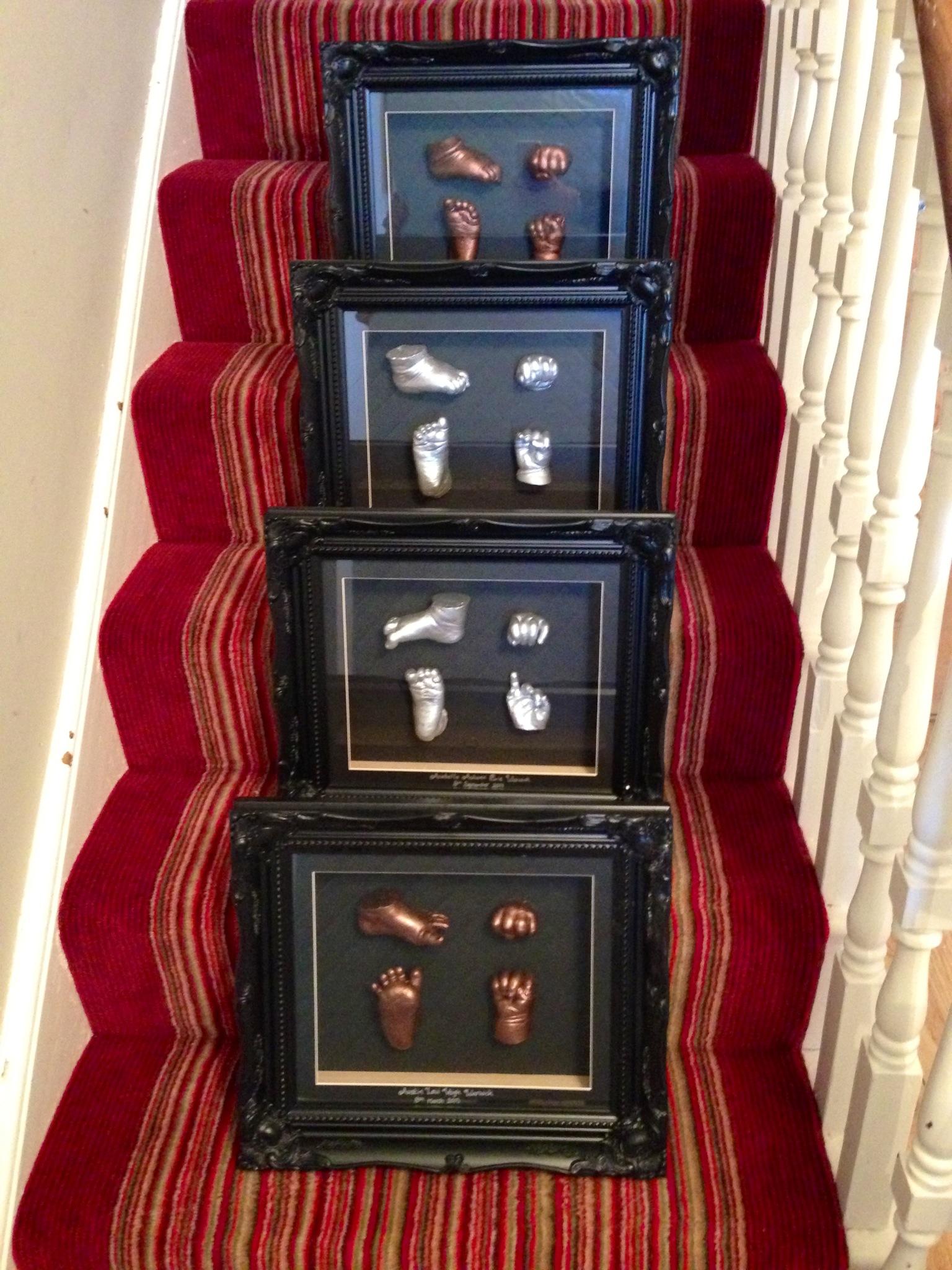 Four Sets of Baby Hand and Foot Casts - from 2009 onwards

This is one of our favourite casting stories. While expecting their first child, Frank and Georgina purchased four (yes, four!) BabyRice Baby Casting Kit with Black Ornate frames. When their first born, Otis, arrived, they cast his little hands & feet at eight weeks. Otis was soon joined by sister Zillah, then Arabella, before baby brother Austin arrived to complete the set. Each siblings hands and feet were cast at eight weeks, using the kits that mum and dad had bought whilst initially pregnant with Otis - what a story! All four of the children's casts were created using the BabyRice Large Baby Casting Kit with Rococo Black Frame and Silver Paint (product number 113.BLKSGL.BLKBKG.SIL).
After they cast Austin's feet, Frank and Georgina got in touch to share their story, saying:
We always hoped we would be blessed with four kiddies so I bought four frames in faith. We just had our fourth baby, so we got to complete the set! We had two boys & two girls, Otis, Zillah, Arabella & Austin, we took all their casts at eight weeks old and by baby three we thought we were pros! I used bronze paint for the boys & silver paint for the girls. Thank you very much for the beautiful frames we really love to see them and everyone always comments on them when they call by.
Thank you
Frank & Georgina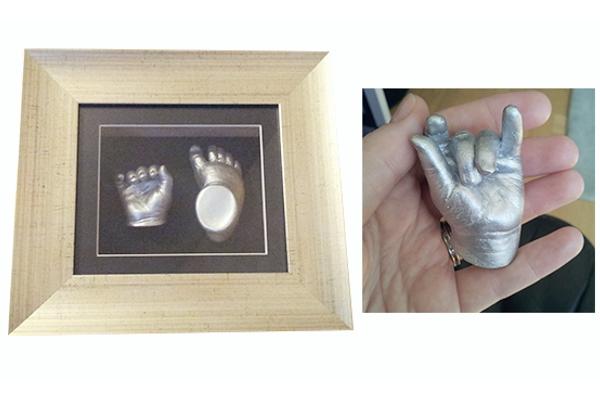 Eli's Baby Hand Casts at 11 Weeks - 2013

Thank you to Janita for sending in her photos of her baby's hand and foot casts. The casts in the frame are of Janita's baby Eli at 11 weeks and the little hand cast in her hand is Eli's at 5 weeks - ah, so cute! This kit is our Silver Footprints Baby Casting Kit, Antique Silver Frame with Black Display (product code: 203.BLK.BLKBKG.SIL)
Janita told us:
I just wanted to share the hand casts we made using our BabyRice hand casting Kit.

I absolutely loved this product and it was so special for us to be able to capture just how small our baby boy Eli is as he was born 8 weeks early.... if only we could have done it then. The individual hand was done at 5 weeks old and then the hand and foot set in the frame was done recently at 11 weeks old.
Thank you for a great product and keepsake. I am sure that someday he will love seeing how small he was.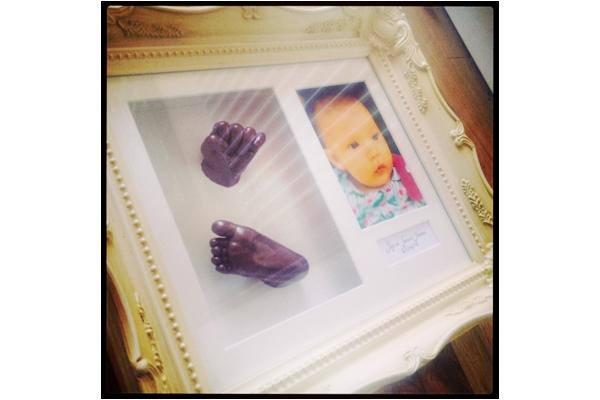 Sofia's Newborn Baby Hand & Foot Casts - 2013

Thanks to Stacey and her beautiful baby girl Sofia for this one. This is our Cream Rococo frame with a Cream 3 Hole mount (please ask for this mount version during the checkout process) and can be found here: 112.CRMSGL.CRMBKG.BRZ
Mum Stacey wrote to us to say:
Thanks so much for the amazing 3d baby hand casting kit! It really turned out amazing and is such a lovely keepsake! Will definitely be making more purchases from yourselves! Brilliant customer service too!
Thank you to the whole team!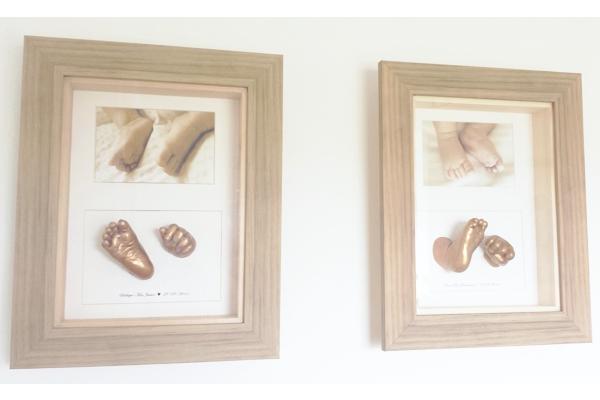 Baby Hands and Feet Casting - 2011 & 2014
Thank you so much Zoe for this one. Zoe had a kit from us back in 2011 and then after the birth of her second child, came back for the same kit 3 years later in 2014! Look at the fabulous job she has done and we love Zoe's baby feet photos in muted sepia tones in place of baby face photos - the entire display looks super stylish and wouldn't look out of place in a fancy arts and crafts gallery!

Zoe said:
"I bought a mould for my son and than I had another son so I bought another and they turned out so beautifully. I have wall mounted them and thought I would share a photo.
Many thanks,Zoe"

These baby casting kits with frames are our item code 102.CRM2.CRMBKG.BRZ but with GOLD paint (instead of Bronze). If you want Gold paint as pictured below, then do request this in the customer comments box which you will come across during our online checkout process!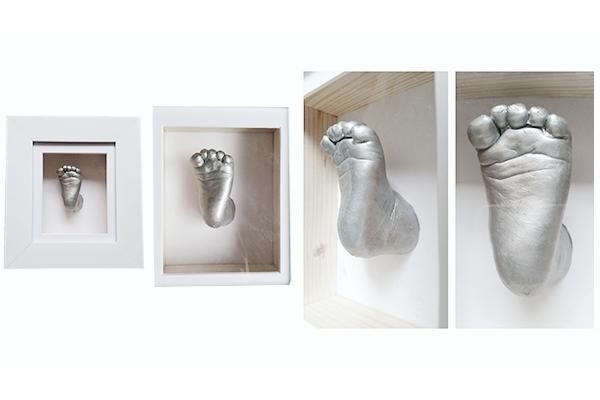 Newborn Baby Foot Cast at 10 Weeks - 2015

Thank you Fran for your great pics, Fran took a cast of her 10 week old son and is so pleased with the results.

Fran said "I did this foot cast of my baby boy when he was 10 weeks old. The detail the cast picked up is beautiful. It is a lovely momento that I will treasure forever! He is now about to turn one. They don't stay little for long!"

You're sooooo right Fran! Babies grow so quickly you just can't imagine how tiny they were when they were newborns which is why our baby casting kits are so great as they capture babies tiny hands and feet in fabulous 3D detail!
Fran used our kit 209.WHT.WHTBKG.SIL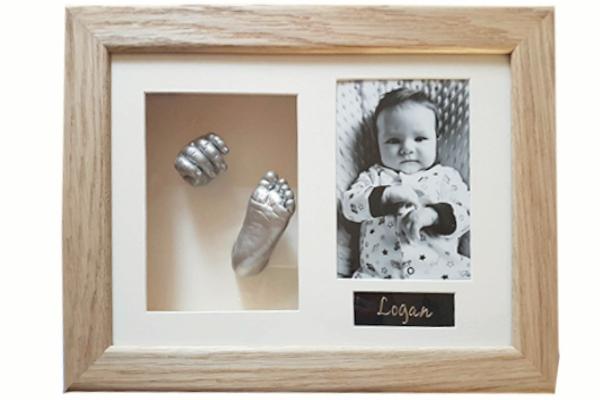 Logan's Newborn Hand & Foot Cast - 2016

A big thanks to Maria who had her baby casting kit bought for her as a gift.
Maria said:
"just wanted to say my sister bought us a baby casting kit following the birth of my son. It has been a little fiddly and has taken a while to complete with tending to a new baby and crafting in spare time, but it is absolutely stunning and well worth the effort.
I love it! Thank you xx"
This kit is our popular solid oak frame baby hand and foot casting kit