Customer Gallery - Shadow Box Frames
Shadow Box Display Frames
Not only are our deep shadow box display frames used for 3D casts such as baby hand and foot castings, pet paw castings and family hand castings, they are also used for a whole heap of truly wonderful craft projects! Here is just a teeny tiny selection of what our shadowbox frames have been used for to frame our customer's precious items, keepsakes and other 3D objects. We hope these box frame photos give you inspiration for framing your own sentimental belongings. It's time to get those keepsakes and collectibles out of your drawers and cupboards and display them in a beautiful deep box frame instead! Our handmade deep box display frames are handmade by us at our UK workshop.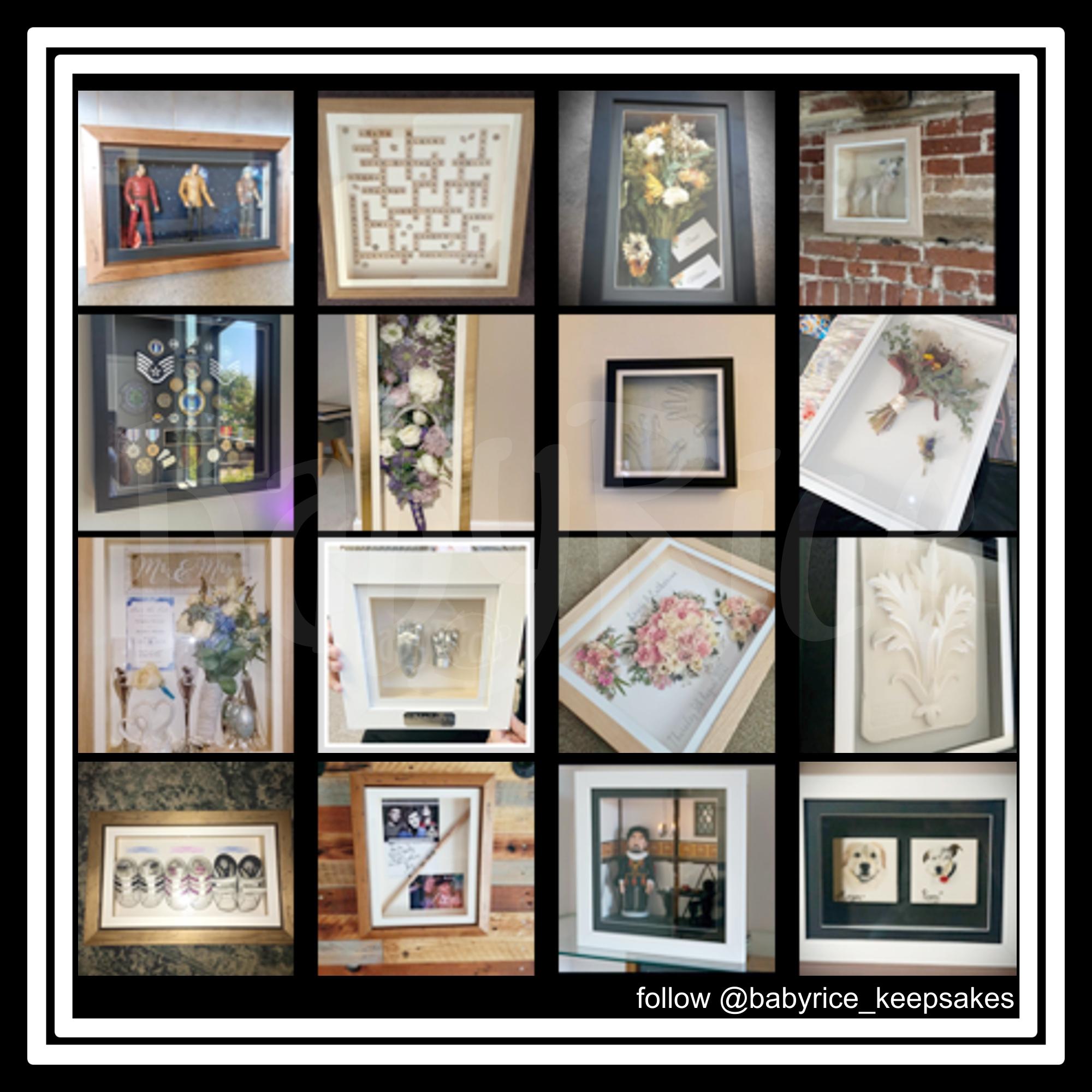 With a range of inner frame depths from 1.75" to a whopping 3.5", we have a great selection of deep box display frames for you. You are sure to find a perfect shadow box frame from our extensive range.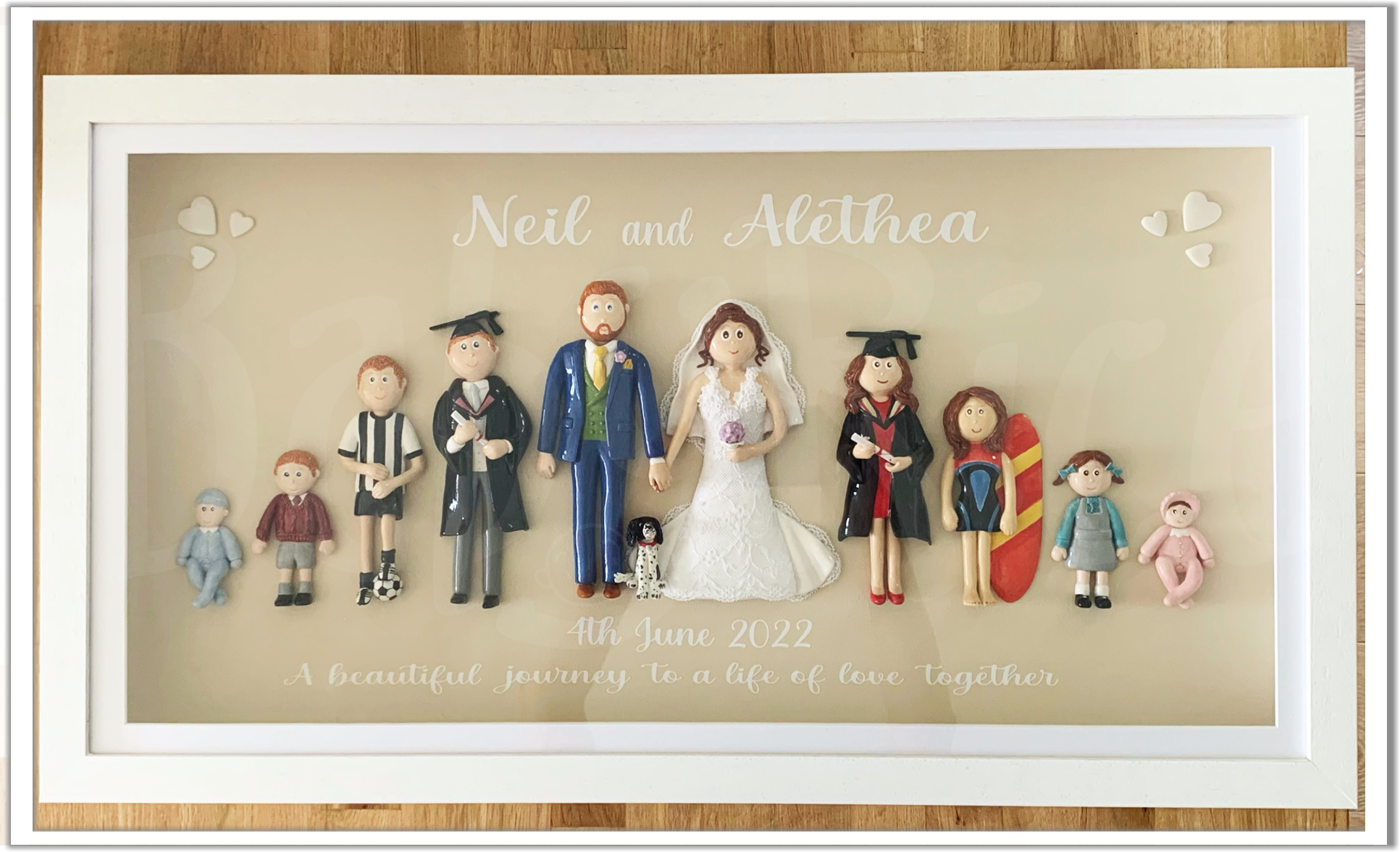 Mabel, an experienced potter, used her pottery skills to make this stunning gift for a relative's wedding. It was a true labour of love and took over 2 months to make, which is no surprise as the pottery figures are quite a large size, they're incredibly detailed and wonderfully glazed colours. Mabel used our 40x75cm deep box frame, this one is our always popular white deluxe box frame with antique cream backing and absolute white front mount, 48mm depth (2").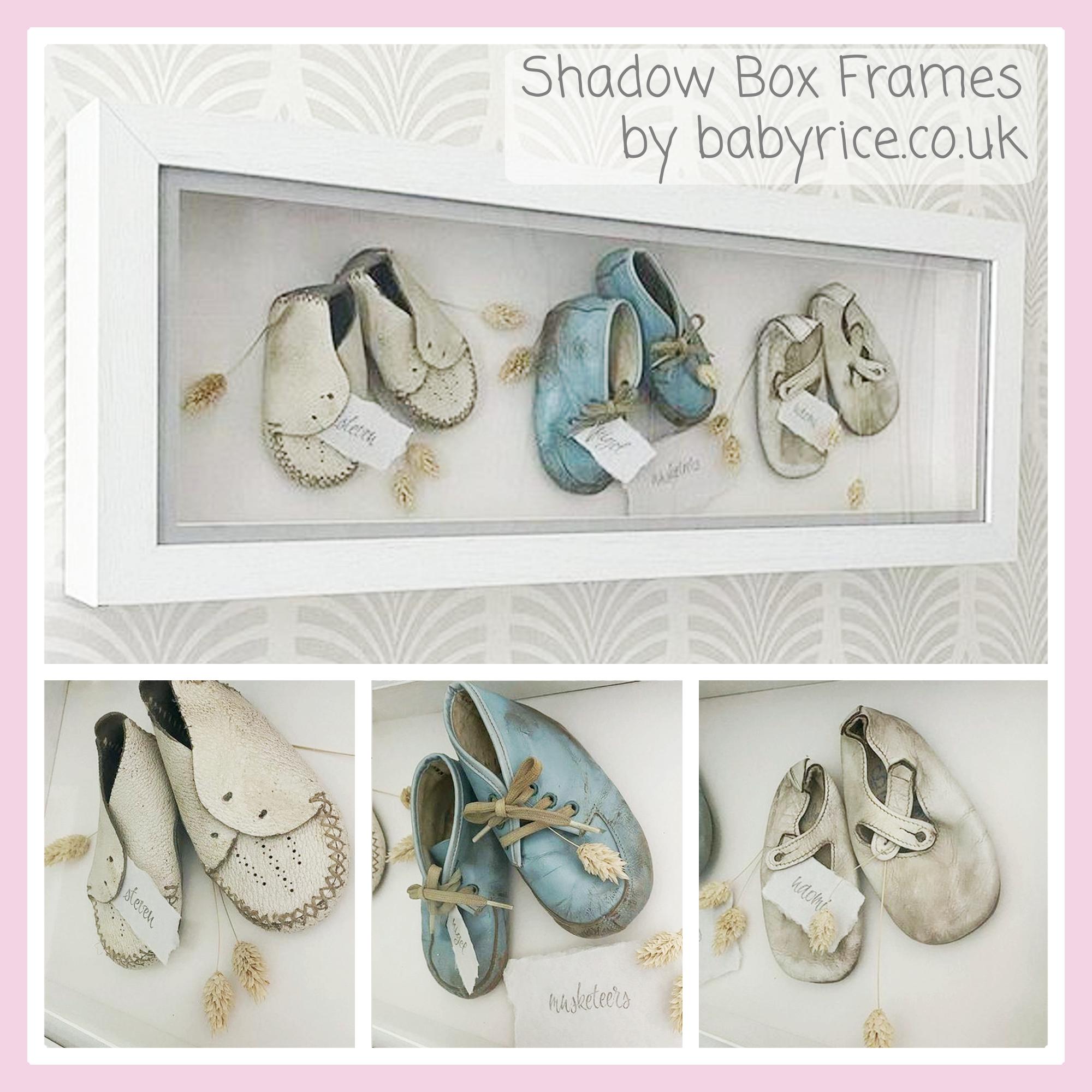 Lady Lettersmith bought our white deluxe frame with light grey (pebble) front mount to finally frame her children's baby shoes that had been hidden away in a cupboard for many years. Using her beautiful handwriting skills and some simple, but wonderfully creative and effective, wheat props and torn-edge papers, the finished frame makes a truly stunning piece of keepsake wall art. You can find Lady Lettersmith on Instagram, @ladylettersmith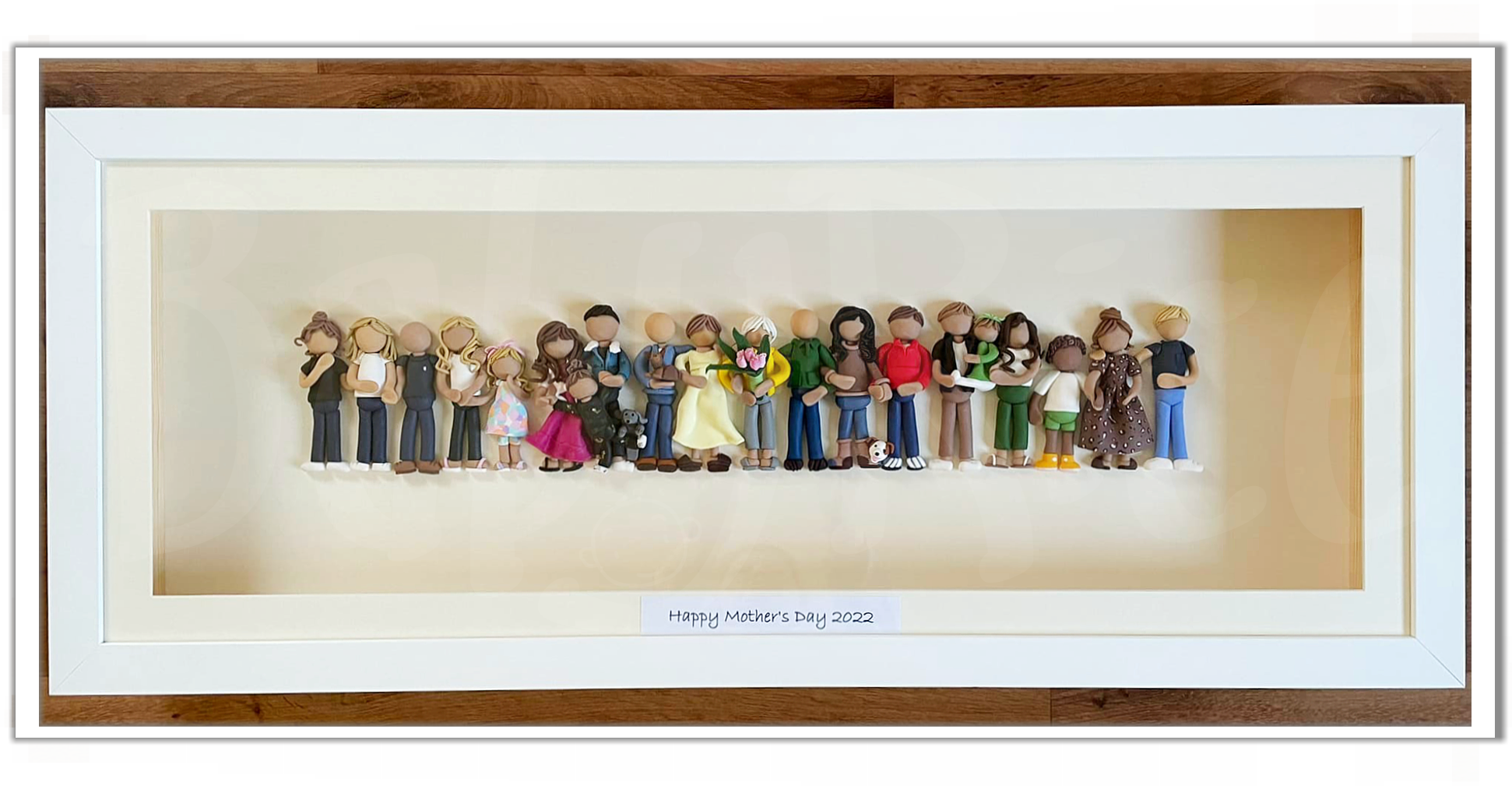 We LOVE this display, the characters are all handmade by Michala and frames in our white shadow box frame. Michala said: "Highly recommend babyrice fantastic service and great products.BabyRice your frame saved the day. I made the little people for my mother-in-law for Mother's Day. It's the whole family and couldn't of finished without your amazing frame Thank you babyrice!"
What a beautiful gift to receive! This white wooden box frame is sized 13x35", 70mm deep (2.75"), with whipped cream front mount and backing card. Other sizes and insert colours are available too here: White Box Frame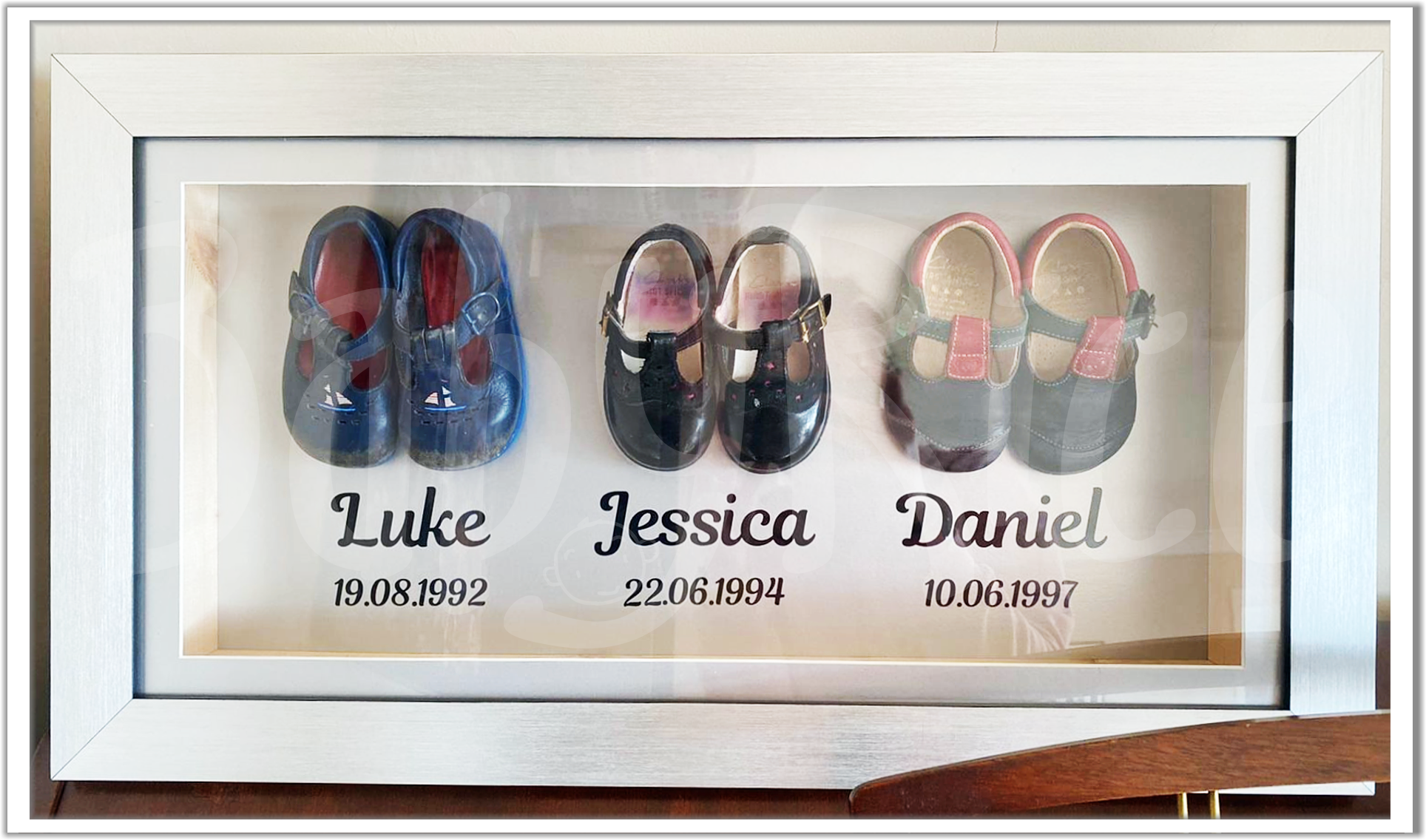 Laura used our brushed silver box frame for framing her niece and nephew's first shoes for a most thoughtful gift for her sister's special birthday. The children's 1st shoes had been kept hidden away for years (almost 30!) until Laura decided to make this sentimental keepsake and perfect wall art as a gift for her sister. This frame is our 11x22" size, with a metallic silver front mount and backing card, 70mm (2.75") deep. Gorgeous!