Painting hand & foot casts – how to get the perfect paint finish
Painting hand & foot casts – how to get the perfect paint finish
This entry was posted on 07/11/2018 by Annalisa Soldani.
So, you have created a beautiful hand cast, you marvel at the detail and can't wait to finish off your project by painting your cast. WHOA there. Don't rush. Painting your hand casts straight from the mould is a BIG no-no. Read on to find out why....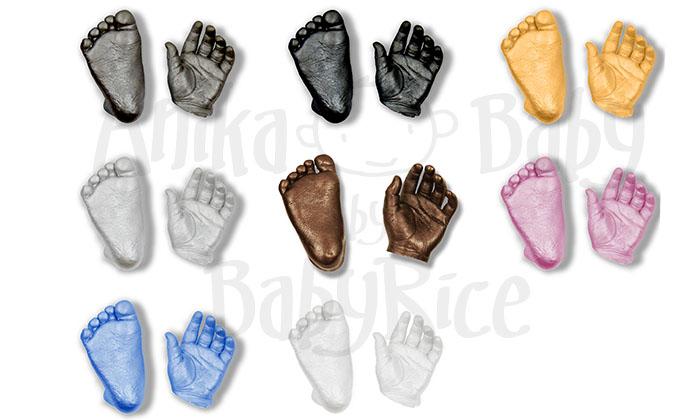 BabyRice baby hand casting kits are supplied with one of eight fantastic metallic paint finishes
Before painting your hand or foot cast, you must ensure the plaster is thoroughly dry. By thoroughly, we mean dry right through to the centre of the cast. This can take anywhere from one week to one month. Always read the manufacturer's instructions to find out how long your plaster will take to dry.
How long will it take for my hand cast to dry?
This depends on a number of factors:
The size of the cast – a small cast, such as a newborn baby's hand or foot, will take around a week to dry. A large cast, such as an adult group hand cast, could take up to two weeks
The ambient temperature – if you leave your hand cast to dry in a cold room this will extend the drying time.
Humidity – if you leave your cast to dry in a humid room, such as a poorly ventilated kitchen or bathroom, this will also extend the drying time of your cast.
The ratio of water to casting plaster – if you make your plaster very wet by adding more water than recommended by the manufacturer, it will take longer for your cast to dry.
Uncoated plaster is porous, which makes it extremely absorbent, allowing liquids like paint to penetrate deep inside the plaster. The acrylic paints supplied with BabyRice hand casting kits are designed to adhere well to plaster.
The key to painting your hand and foot casts is to build the colour slowly, using a suitable paint. Thick paints will not adhere to the surface of raw plaster casts. Overloading the surface with lots of thin coats of paint won't work either. You must wait for each coat to dry before adding the next one. Once the surface of your hand cast is sealed, you can add thicker products such as BabyRice Metallic Finishing Wax.
BabyRice Metallic Paint >> and BabyRice Metallic Wax >> can be applied directly to dry plaster. These paints are formulated to easily absorb into the plaster.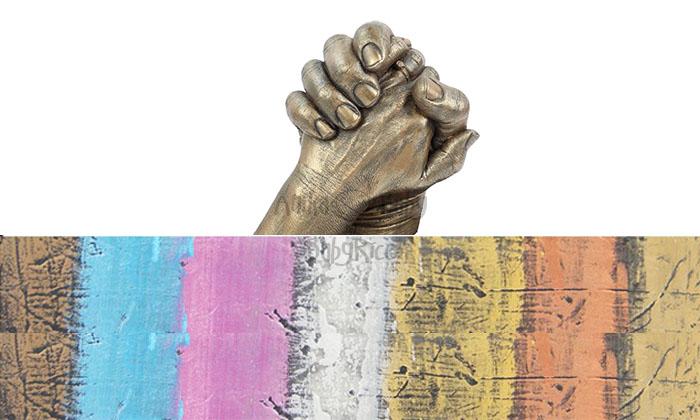 BabyRice Metallic Wax produces an incredibly realistic finish


Top Tips: how to give your hand cast the perfect paint finish
Be patient. Rushing to paint your hand cast won't speed up the process. Take your time and wait for the plaster to dry thoroughly before painting.
Want to speed up the drying process? Place your cast in a warm, dry room, such as an airing cupboard.
Use thin paint for the initial coats and slowly build up the colour.
Only add thick paints and waxes after you have thoroughly sealed your plaster cast.
If in doubt, do a patch test. Apply a thin coat of paint to small of your hand cast and leave the paint to dry. If the paint disappears or changes colour, you need to wait a little longer before painting your cast.
Do you have a question about casting don't hesitate to get in touch by posting a comment below.
If you have a project that you would like to showcase in our customer gallery, please do contact us