Celebrate your special bond with a pet paw cast
Celebrate your special bond with a pet paw cast
This entry was posted on 02/11/2018 by Annalisa Soldani.
Dog owners can now follow in the footsteps of new parents and create life casts of their dogs' paws, thanks to a new range of casting kits from life casting specialist, BabyRice.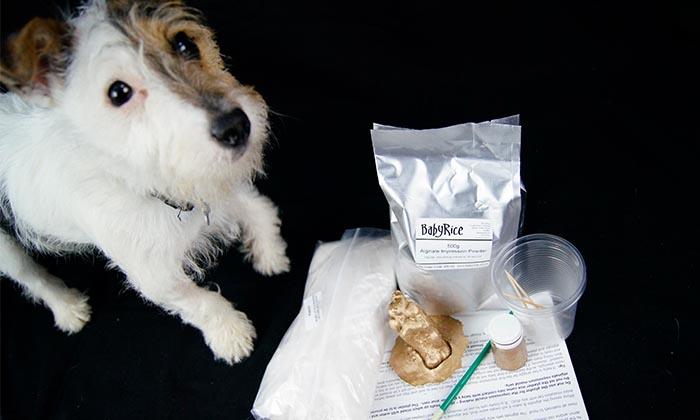 BabyRice paw casting kit includes all the essentials for making replicas of your pooche's paw
Life casting is the process of creating a highly detailed, three-dimensional plaster cast replica of a body part from an alginate-based mould. The practice is increasingly common with parents who cast their newborn babies' hands and feet to create a unique keepsake.
"If you are anything like us, you'll consider your pet dog a full family member," said marketing manager Annalisa Soldani. "So it made sense to us add paw casting kits to the existing range of baby hand & foot casting kits and adult hand casting kits."
BabyRice paw casting kits contain fast setting alginate, so you don't need to keep your pooch's paw in the mould for more 90-120 seconds. Made from natural plant extracts, its completely safe to use on skin and fur. The kits also contain high quality plaster and paint, making the final casts durable and sealed against moisture, dust and dirt.
Capture amazing detail of your pet's paw with a BabyRice casting kit
Whether your four legged friend is young or old, it's fun to capture their paw to create a unique piece of art. Paw casting can also create a comforting memorial in the sad event of the loss of a much loved pet.
You can explore the full paw casting range on the BabyRice website SHOP NOW >>