Creating beautiful 3D casts of baby's hands and feet is easier than you think
Creating beautiful casts of baby's hands and feet is easier than you think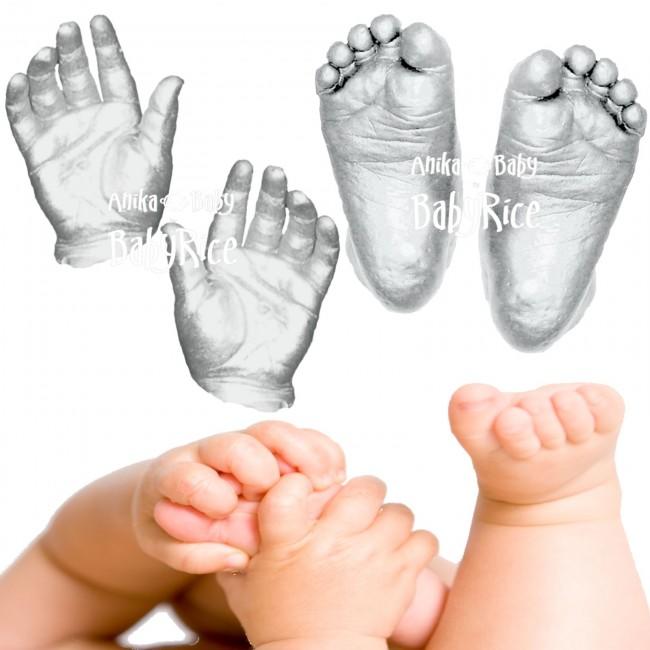 Foot and hand casting (also know as life casting) enables parents to capture and preserve that time when your baby was tiny. Using simple materials (alginate and plaster) new parents can create a 3D replica of baby's tiny hands and feet to create a keepsake to treasure forever.
Creating a life cast is really very simple. There are just two essential steps.
Step One: Making an Impression Mould
The first step is to create a mould of your baby's hand and/or foot using BabyRice Skin Safe Alginate Impression Making Powder. Based on seaweed, alginate is the most commonly used mould making material for creating both professional and DIY life casts. It's completely safe to use even on delicate newborn skin.
In fact, alginate is the moulding material that dentists use to make moulds of patients mouths. So, when you are comparing baby casting kits, we recommend looking for a kit that contains dental-grade alginate. That way, you know it conforms to rigorous safety standards. BabyRice Alginate is dental-grade and conforms to British Safety Standards BS 4269 Pt.2:1991 & ISO 1563:1990.
Another tip when shopping for a baby hand casting kit is to make sure the kit contains fast setting alginate. Many a cast has been ruined because the alginate took minutes to set (which is ages!) and the baby didn't manage to stay still for long enough. BabyRice alginate is formulated to set quickly - after all, when you are making moulds of babies hands and feet, you want it to work quick so baby doesn't have to stay still for too long!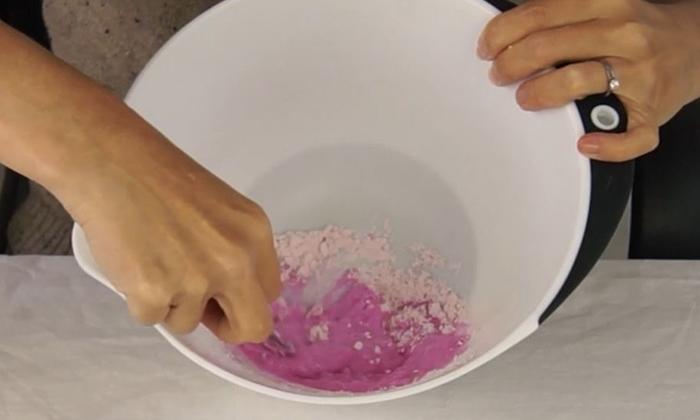 Step Two: Use the Alginate Mould to Make the Cast
This bit couldn't be easier: simply pour plaster into your alginate impression mould and once the plaster has set you have your baby life cast. Some casting kits contain fine casting plaster (such as Plaster of Paris), which is one of the cheapest types of casting plaster. These cheaper plasters have a short shelf life of just 6 months and is quite a soft plaster once set, which means it's not great for an item that will be handled and that you want to last forever. Besides, you don't want to pull off a pinkie when removing your hand cast from the alginate mould!
Instead, you should look for a baby casting kit that includes a stronger plaster, such as Herculite II. Herculite produces a harder and more durable surface than fine casting plaster, making it a more suitable option for a life cast. Another advantage of Herculite II is that it produces a very white colour cast, making it the perfect base for a lovely paint finish should you decide to paint your plaster cast. All BabyRice 3d casting kits contain Herculite II plaster.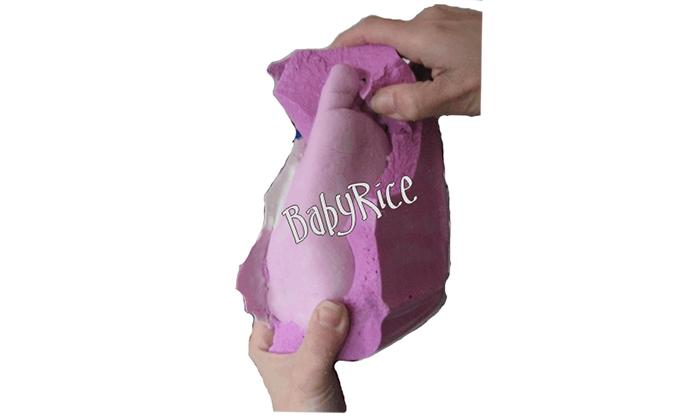 Step Three (Optional): Finishing your Cast
While some people like the raw look of the plain white plaster cast, most people tend to paint their casts with metallic paints or apply metallic wax finishes. Finishing your hand casts and foot casts with a coat of varnish, wax or paint will help to seal and preserve them by preventing moisture, oil and dust from causing damage. Some starter baby casting kits don't include finishing materials – this helps keeps the price of the kit as low as possible. If you have unpainted plaster casts that you would like to bring to life with a paint finish, then you are at the right place as we sell metallic paints and a fabulous metallic wax paint finishing kit, all perfect for painting plaster casts. See the range here >>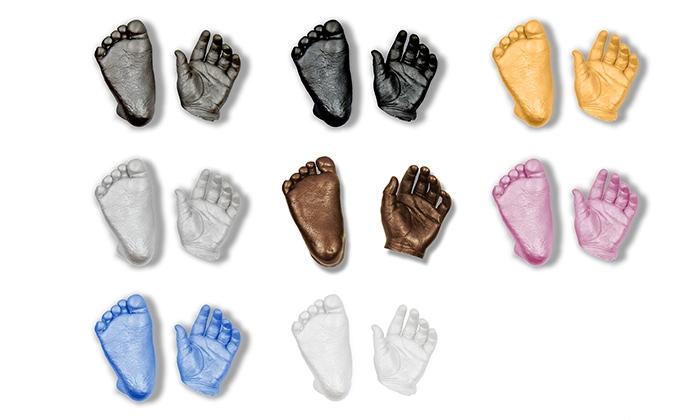 Step Four (Optional): Displaying your Cast
Having gone to all that effort to create such beautiful casts, why wouldn't you want to show them off? So it's a good idea to think about how you want to display your baby's hand and foot casts. You have two options here: a display plinth or a deep box display frame. Look for box frame with a depth of at least 1.75 inches. Anything less and you'll likely end up having to file away at, (or even saw the end off!) your casts to get them to fit in. This is a common problem with shallow depth box frames that come with cheap baby casting kits. BabyRice's Box Display Frames are made with a minimum depth of 1.75 inches - deeper depths of 2.75" and 3.5" are also available. See the huge range of box frames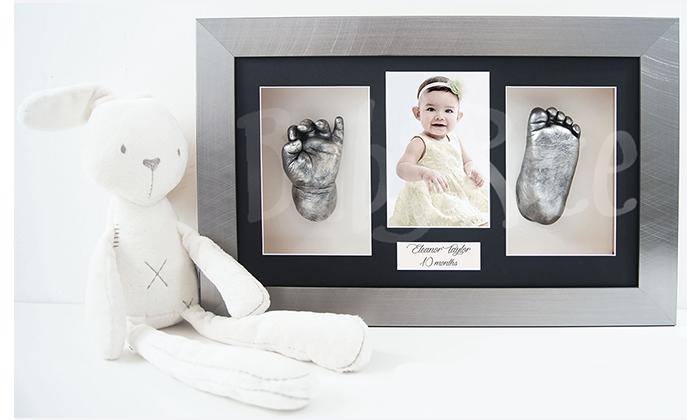 So, how easy is it to cast your baby's hands and feet at home using a DIY baby casting kit? Well, we spoke to some mums that have used BabyRice casting kits to cast their baby's hands and feet and here's what they had to say:
"I did this foot cast of my baby boy when he was 10 weeks old. The detail the cast picked up is beautiful. It is a lovely memento that I will treasure forever! He is now about to turn one. They don't stay little for long!" Fran, a happy BabyRice customer and DIY life caster
Jo says: "We took the 4 casts of Essie's hands and feet between the age of 8 and 12 weeks - the hands were a little tricky to get right! We wanted to keep taking casts until we got the perfect hand casts, she seemed to just bunch her fist up every time! We had difficulty getting the plaster into the fingertips when they were pointing upwards (SO frustrating!) We tried when she was asleep (success!) and calm (success!) We are just so, so pleased with the finished result, it looks better than other ones we have seen that have been done professionally, for a LOT more money. I definitely think if you do it yourselves you get a better finish (although I am a perfectionist!) and it just means more that you have done it together. It is now in pride of place in our lounge!
Thanks again, Jo, Jim & Essie xxx"
See for yourself as to what you can easily create at home using one of our kits - check out our Customer Gallery


Baby Hand & Foot Casting Made Easy!
A Baby Casting Kit enables you to create stunning replicas of your baby's tiny hands and feet in the comfort of your own home. It really is an easy process and you'll achieve fantastic results! A Baby Casting Kit makes a unique christening gift or baptism gift, and everything is hand-made & put together for you by us, right here in the UK! Shop our range of Casting Kits