Gender Neutral baby shower gift ideas
Gender Neutral baby shower gift ideas
This entry was posted on 19/10/2018 by Annalisa Soldani.
So, your friends baby shower is coming up and you really want to get her a meaningful gift with a personal touch, but you don't know the gender of the baby. It's a tricky one, but there are some great gender neutral keepsake gifts out there that new parents will treasure forever.
We've summarised the top unisex new baby gifts to give you inspiration for your next baby shower!
Baby Casting Kit
A baby hand and foot casting kit is our number one pick for anyone looking for unisex baby gifts. In it's simplest form a casting kit consists of impression moulding powder and casting plaster. The moulding powder creates an exact replica of a baby's cute little hands and feet. The moulds are then cast with plaster to produce a unique keepsakes that will last a life time.
Good quality kits also include finishing materials, such as paint, which can be used to seal and protect the precious 3D baby hand and foot casts.
The gorgeous hand and foot casts can be displayed, by mum and dad, on a plinth or in a 3D box display frame. What's more, a DIY baby casting kit means that mum and day can create their casts, and some special memories, in the comfort of their own home.
If you are buying a casting kit as a gift, we recommend looking for a complete that includes skin safe alginate, casting plaster, paint and a display, such as a deep box frame with with mount card and backing board. A good quality baby casting kit starts at around £40.00.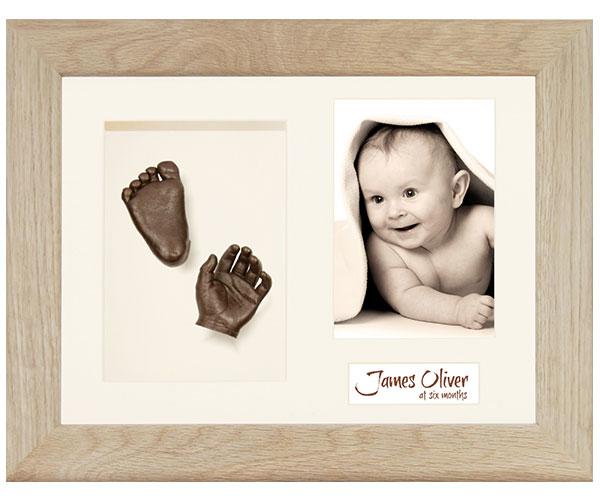 Solid oak frames are very much in vouge right now. The neutral colours makes it a great fit with any colour scheme. BUY here >>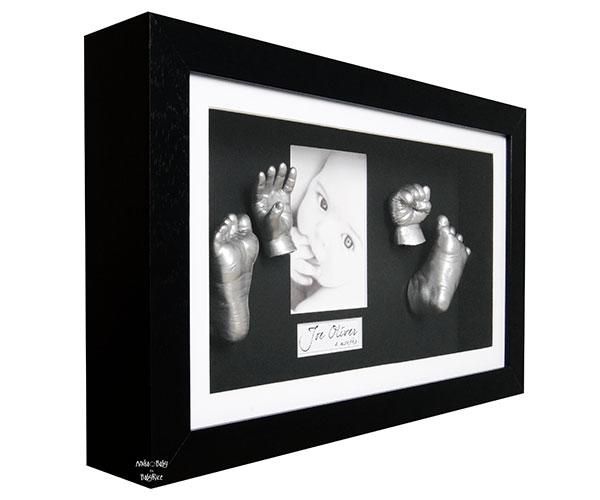 Deep box frames in monochrome make an elegant and striking display option for baby keepsake casts. BUY here >>
Hint! When comparing baby casting kits with box frames, look for box frame with a depth of around 1.75 inches. Anything less and mum and dad may have to file away at their casts to get them to fit in (a common problem with a shallower depth box frame).


Baby Hand and Footprint Kits – with Inless Ink!
If a hand and foot casting kit isn't your type of gift, then how about a hand and foot printing kit? Inkless printing is a safe and mess-free way to capture the amazing details of a newborn baby's hands and feet, making this another great unisex baby gift. Prints can be framed and displayed on the wall as baby's first work of art!
Inkless printing might sound like something magical, but it's actually really high tech! Years of research have gone into making an ink-free solution that ensures hand, foot and finger prints will only appear when applied to specially coated card, so it's completely mess free. What's more, the solution is so gentle that it's safe to use on even the softest newborn skin. In fact, this technology is commonly used in hospitals across the USA to help identify newborn babies.
Prices start at just £3.97, for basic kit that includes inkless wipes and specially coated card, and ranges up to £28.99 for a complete kit that includes inkless wipes, specially coated card, wooden display frame and luxury backing and mount card. Bargain!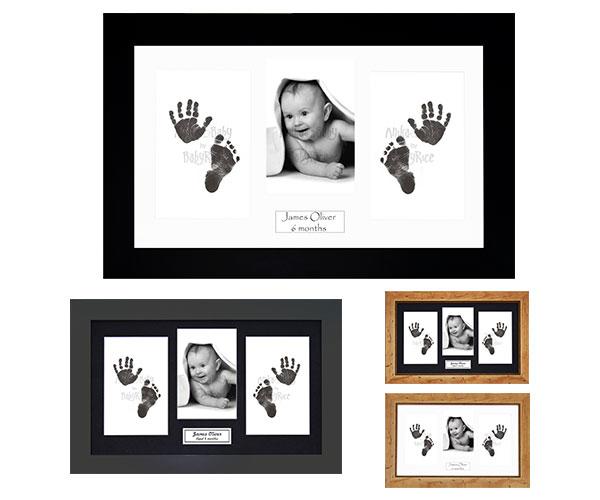 These popular inkless printing kits with are a great fit with almost any nursery scheme thanks to the neutral colour palette.
Inkless handprint and footprint kits: another great gender neutral newborn baby gift idea for your next baby shower! BUY Inkless Printing Kits here >>
Gender neutral photo frames
Baby's first professional photoshoot starts long before he or she is even born! Most expectant mum and dads will be offered pictures from their 12 and 20 week ultrasound scans, and these will quickly become treasured keepsakes. So, why not treat them to a beautiful picture frame so display these beautiful images. Check out this triptych, concertina photo frame that captures baby's development from 12 weeks, to 24 weeks to newborn. How adorable is this? BUY here >>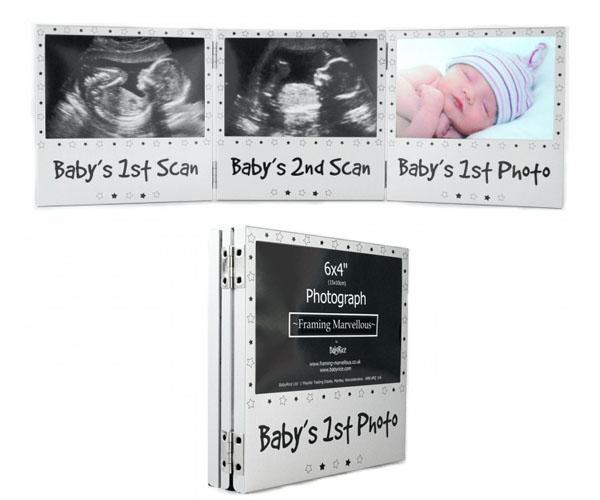 Captures baby's development from 12 weeks, to 24 weeks to newborn
Or, how about this handmade baby scan photo frame. Exclusive to BabyRice, this funky frame has bags of personality and is a contemporary way to display and show off that precious ultrasound scan photo.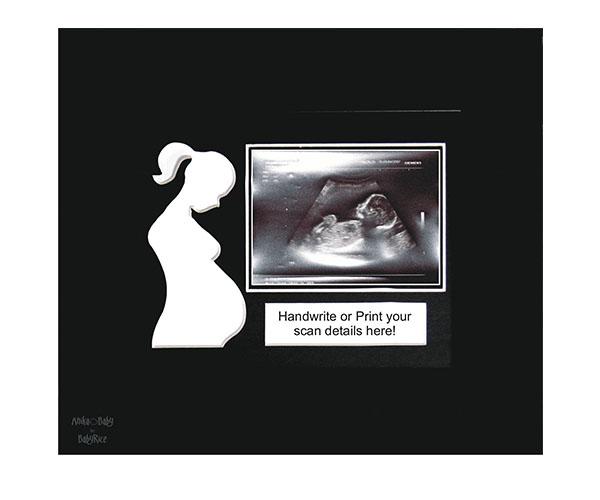 This baby scan photo frame is handmade in the UK and exclusive to BabyRice
BUY Handmade Baby Scan Photo Frame >>
Soft toys
We all remember our first favourite stuffed animal, so who doesn't want to be the one that gifted baby that special friend. Look for a stuffed toy in gender neutral colours, such as white, tan and grey. Prices start at £12.99. These are equally cuddly for a newborn baby boy or girl. BUY here >>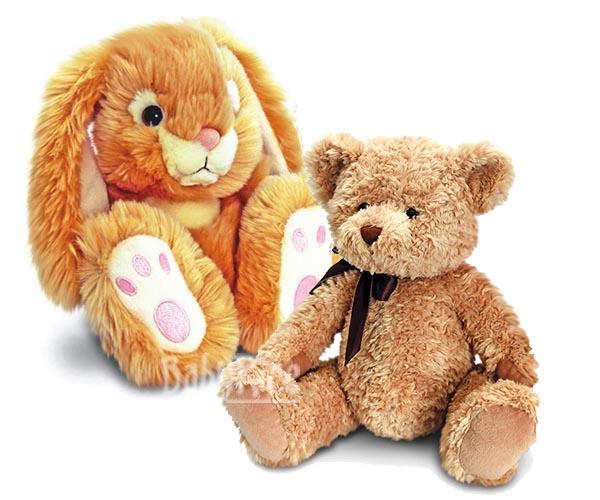 Gender neutral toys like these farmyard and woodland animals make a great unisex new baby gift
New Baby Keepsake Gift Sets
Sticking with the neutral colour theme, a white and smoke grey Keepsake Gift comprising:
Baby's First Photo Frame with 12 photo spaces for each month of baby's first year
My Birth Certificate Holder
My First Curl Box
My First Tooth Box
My First Handprint and Footprint Frame and Prints Kit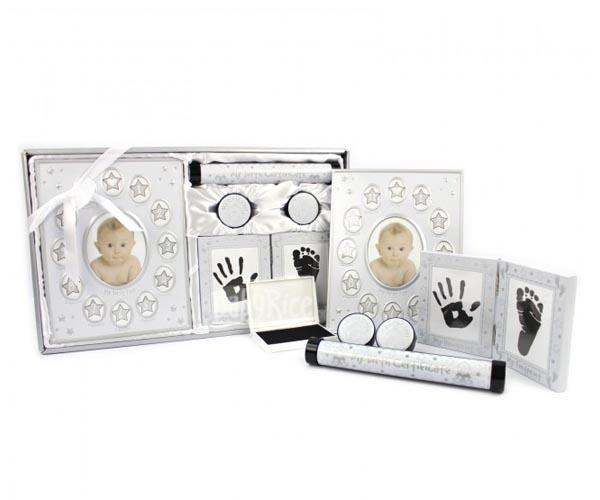 A "My First" baby keepsake set is the perfect gift for welcoming a new baby to the family
BUY New Baby Keepsake Gift Set here >>
So, what do you think? Let us know your top picks for gender neutral baby shower gifts in the comments section, below.